Thanks for all the compliments. Participating on such a great forum has really motivated me.
This update is pretty big.
I've reviewed my previously finished minis and it occured to me that I should have consulted an army list
before
converting and painting minis.
I've decided to use Net Epic organization for unit construction. Some of the changes include;
1. The little platform was yanked from the wyrdboy battlewagon to be replaced by a lower platform for a Kult of Speed Warboss Battlewagon.
2. The looted rhinos and Land Raiders are being repainted in Death Skull colors for use as 3 Bonecrunchas and 3 Bonebreakas.
3. The previously completed plastic goff bonebreakas may become Blood Axe, undecided.
For the Kans and Dreadnaughts.
Goff Killa Kan Mob.

Goff Onslaughter/Deff Dread Mob.
Death Skull Killa Kanz (two more to be looted from parts tomorrow.)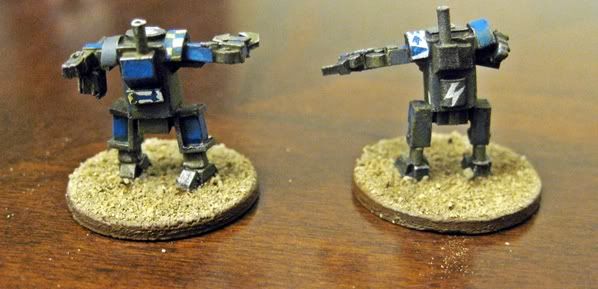 Bad Moonz Onslaughter/Deff Dread Mob (two more to be larger metal big brothers or Mega Dred Scratchbuilds)
Well, this has been a productive week.