Turn 3: AKA when IF armour melts into yellow goo. IF initiative
IF predators advance shoot Macharius, 4 hits 4 saves. IF retain vindicators sustain on praetorians, 2 kills 3 saves, man those guys are tough….love them!
AM Minorus sustains against whirlwinds, 1 macro melt (bad Atcho roll, yeah there were a lot of those).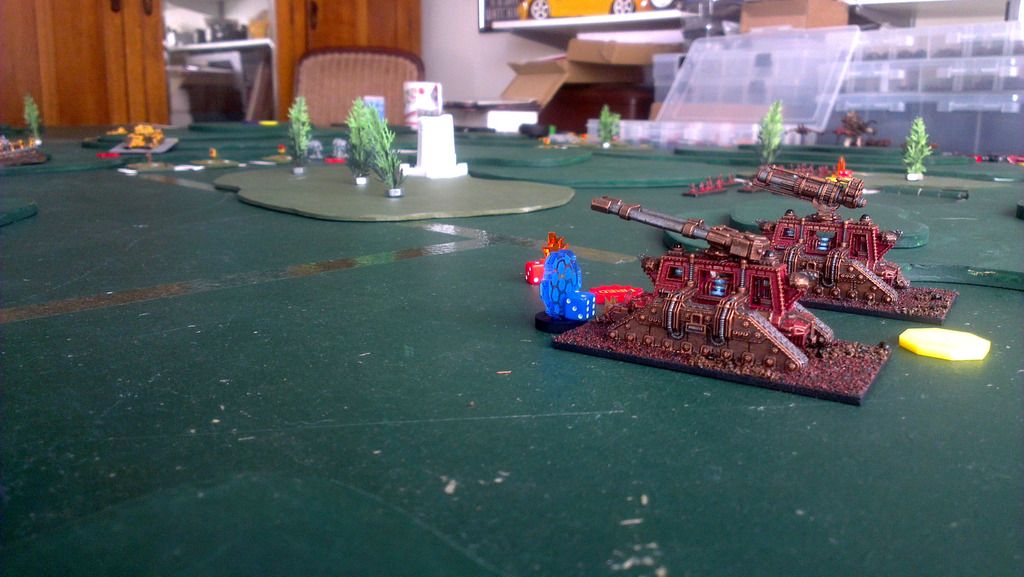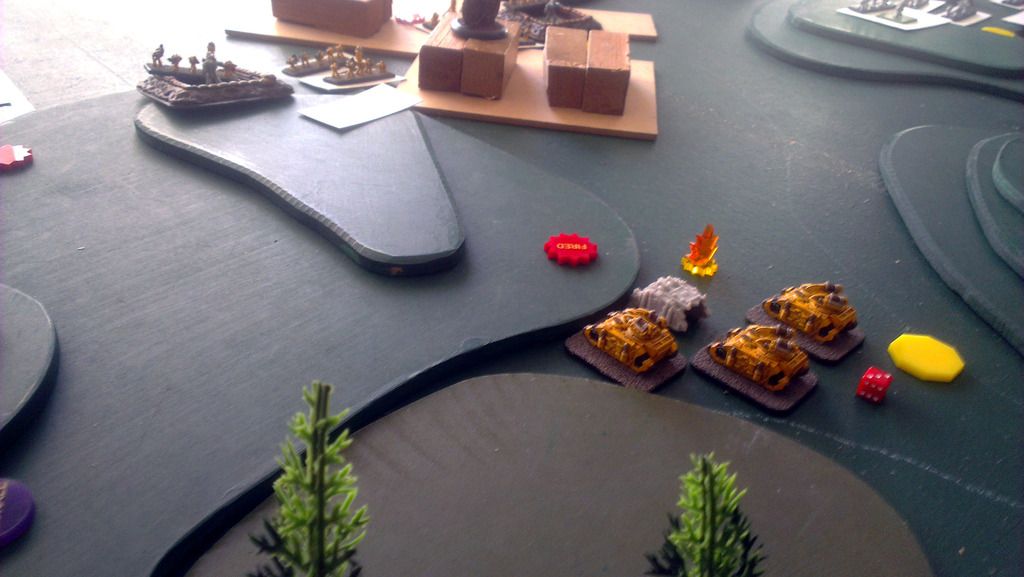 AM retain Engage with praetorians against vindicators. Vindicators get wiped out hard
IF fellblade doubles shoot macharius, misses totally, but looks awesome doing so, IF retain middle tactical sustains against Macharius, all saved. AM sustain against predators with macharius, 2 kills predators broken……….man I loved those tanks……but torn cause I love the ones that killed them.
IF Raiders double, flanking west around forest behind Minorus, 4 hits 2 shields down 2 saves. AM west skitarii engage raiders revealing secutor nasties hidden within…..1 raider, 1 secutor and 1 skitarii killed Fists lose on roll off and withdraw. Wook learns lesson of if blue glow in Atcho's infantry don't go near it for the second time this turn!
IF centurions advance shoot broken crusaders lurking near western objective 2 kills wipe them out. Pity they are grey plastic old dreads.....must paint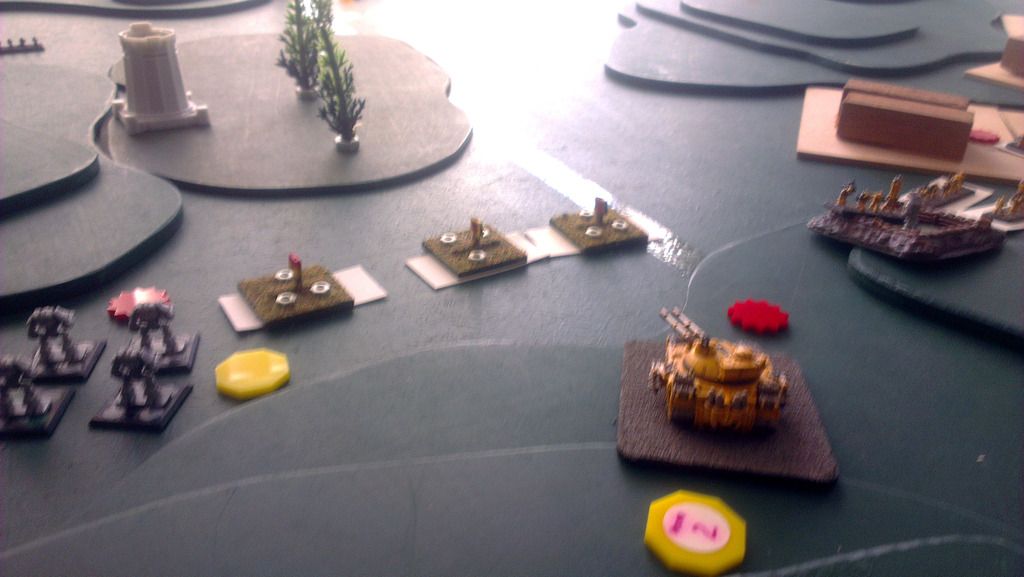 AM skitarii east cower (overwatch again) note the pic is really similar to the first pic......its not though
IF devastator attempts to march to safety, fails and breaks himself! AM avengers called on to finish off the dev with the auto blast marker…………but you guessed it fail to activate and stand down, the show of horrible dancing will remain undescribed.
IF eastern tactical sustain against macharius 1 CP damage 1 save, finally scratched the paint.
Whirlwinds fire the last shot blast pointing the macharius enough to break them……man I hate those things!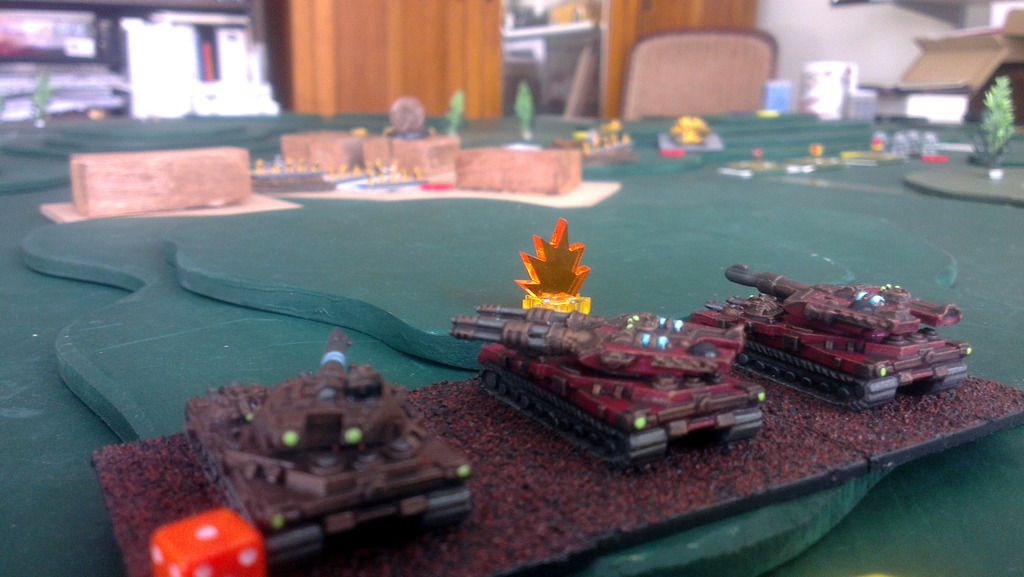 END GAME
Final battlefield
IF 2 (break their spirit and no unbroken enemy in half, could also have had 3 objectives chose to break macharius cause reasons…….we all know what it was)
AM 0 (narrowly missing break their spirit for 1)
given these are both armies who's champions are chasing feedback i'll post some reflection on the lists and invite atcho to do the same.
i just like this pic too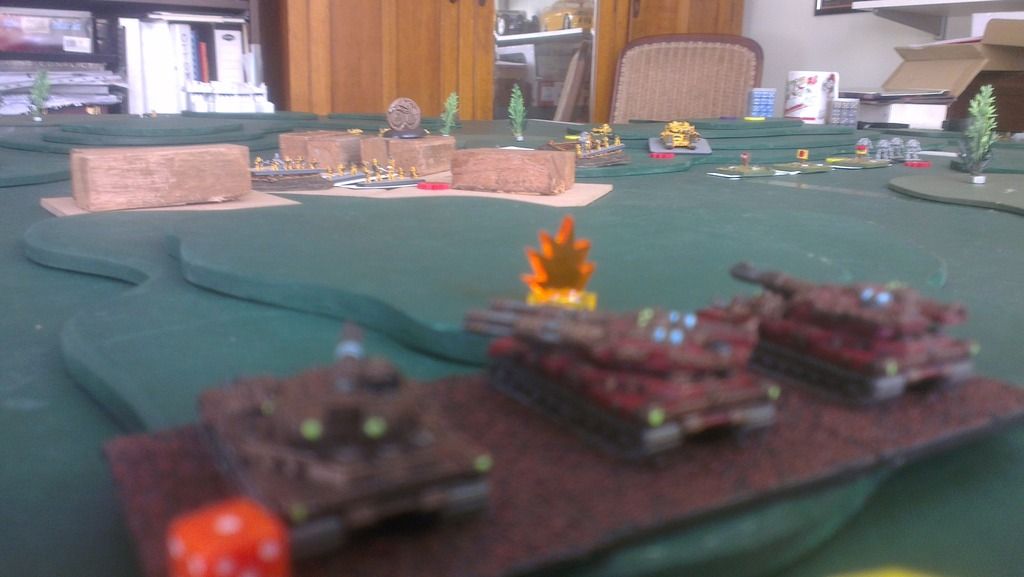 thanks for reading everyone!