Based on modern and traditional military tactics for light and medium mortars in organised forces Mortar platoons and in larger formations Mortar companies, they are traditionally organised into sections of 2 mortar teams each, and then a whole Platoon is 3 sections. A company is 3 Platoons.

Mortars carry everything from HE rounds, Delay fuse and proximity fuse HE rounds. White Phospherous (which is currently banned by NATO forces), Englands forces use a special round that is almost as long as the mortar tube itself. It deploys a parachute that is semi-guided and targets to the largest magnet souce - normally a tank or APC and has a special AP warhead.

With this in mind, I would think the Mortar has the ability to damage both Light Armour, supress normal tanks, and generally obliterate infantry out of cover. The 81mm or 3 inch mortar has a rage of 400m (danger close) to 4.5 km. From this point on the normal artillery takes over wiht ranges rangoing from 17km to 23km and longer for guided missiles like the cruise missile, etc.

For shorter ranger up to 400m, ther is the 30mm and 40mm grenade launcher, and it has so many varied round types, it can be deployed as illum, HE, WP, HE DP, AP, etc. The grenade launcher is a weapon found in many of the Adeptus Arbites lists

I would ensure the mortar has the ability to hurt Infantry, a smaller chance to hiurt AV, and possibly be able to Supress the enemy perhaps - Disrupt. Mortars landing around you - even if they do not land directly on you will force you to drop into cover, find a rifle pit, or some hole in the ground.

I would use a range that equates to roughly 4.5 km on an epic table top for the mortars, say use the griffin as an example, while using the basilisk and the manticore for the artillery which would have a range of between 17 and 23 km.

The only difference is that the paired 81mm mortars would be the equivelant of a 120mm heavy mortar in fire power, but they are man portable and can be quickly broken down to relocate them. Mortar teams regularly setup, make a 15km pack march along with the rest of their batallion who carry extra ammo for them and then set up again to fire on the enemy.
Attachments: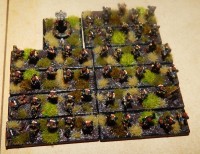 Drop mortar company Lima .JPG [ 225.06 KiB | Viewed 252 times ]

_________________
6mm wargaming is just like 25mm wargaming with more units fitting on the same size table. Thus bigger games to get lost in and avoid the hassles of everyday living, and offerings for the dice gods.