Hello Friends
The Date of the tournament will be the weekend of the 25./26.01.2020.
All the rules you can find here:
https://www.tabletopturniere.de/de/t3_t
... ?tid=25921
I will translate it in the next days.
Summary:
2750 points
All lists from the EA tournament pack and all EpikUK lists when there is no equivalent (like the Worlds)
EpikUK Point system
Of you want to subscribe, you can do it there or you can send me a PM with
Your name
Nickname
Your City
The army you want to play
Email
And the name of your team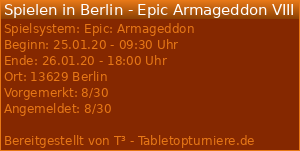 We would like to organise a tournament at the beginning of the next year.
The date will most likely be between the 01/20/20 and the 02/09/20.
Is there anybody who would like to attend?
And would you prefere 1 or 2 days?