Thanks for asking Zap,
Short answer: Yes I do. It was, but I change things and now it's better. Yes I did.
The loooong way round...
Results of battles using slightly modified rules.
3000 PDF vs 6000 Tyranids
PDF won killing two Hierophants
2000 IG/SM v 4000 Tyranids
This scenario was a weird one as each attack lasted only three turns and then reset with the attackers numbers being replenished and increased by 500 points while the defender got to roll for surviving units and vehicles. (I have pictures but only memories for reference) I think the attackers were only 40 - 60cm from the defenders.
The IG/SM lasted three assault waves (Nine Turns) facing 5000 Tyranids and by that time the IG/SM were few in number. Nine turns must be a victory of sorts?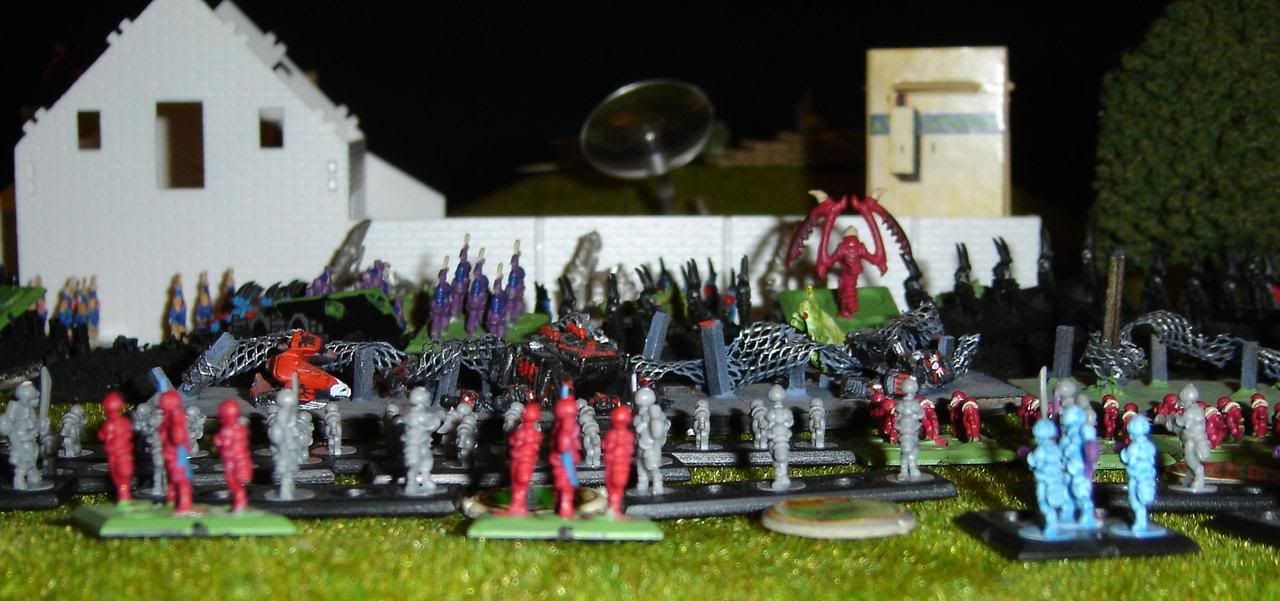 There's that blinkin' Airfix farm building again.
6000 (1000 SOB, 5000 PDF - Governors Palace Guard) vs 13,000 Slaanesh Chaos Cultist with lots of Knights and Subjugator/Questor Titans. No Pictures  
PDF tactical victory as Cultists withdrew after rear attacked by 3000 points of Eldar.
2000 PDF/Eldar v 4000 Chaos Khorne
Fought within a Hive but with Assault rules. Chaos technically won but Defenders managed to withdraw... mostly intact while inflicting a disproportionate amount of casualties.
2000 PDF vs 4000 Chaos Nurgle
Chaos won but it was a good game
5000 PDF vs 8000 (5000 Tzeentch Chaos + 3000 Tzeentch Cultists) - City Assault + Night Time - Walls, gates and Fortress buildings.
Lots of Chaos Titans and they slaughtered everything. Night Time rules changed slightly after this.
To name but a few.
The Standard Assault rules didn't work in themselves. We gave it a try a few times before slightly changing things. Then we played a few Night Time Assault and changed it a little more.
Hidden
Rules are as standard with the exception that you can not set up units more than 15cm from the original stand (where the counter was).
Fortifications
are free but limited in number depending on scenario it could be per 1000 points or the number of company cards taken or Support slots available (If you need a lot but still want the defender to chose between more Emplacements or Off Table Barrages).
Dug In
units do not gain a further -1 to be hit. Most fortifications grant at least this anyway and -3 To Hit modifiers are just boring.
Instead the defender gains +1 Armour save and +1 Caf while dug in. This means that even attacks that Ignore or Reduce Cover are effected. As it should be. It also means that units already with a save are harder to dig out than ordinary stuff.
I've been mucking about with suppression rules for artillery fire on Hidden units. Successful hit = Morale roll, if failed unit may not First Fire but may still Advance Fire. Last until next turn but unit remains Hidden and Dug In.
I also read the old Close Combat rules for SM and wanted to re-introduce the Building Assault rule that an attacker can not enter a building until the enemy is removed from within. This could be tagged on to the Dug In rules. The units outside assaulting the occupiers are considered to be Pinned though for targeting restrictions.