Hi, here is another BatRep from the past...
This game took a long time... so long in fact that as the turns go on some Tyranids get better painted.
This was a stand alone game, but with assault rules with a few restrictions for the Tyranids (played by me). Only One Hierophant and/or One Hierodule allowed and no Drop Pods. Time restricted to six turns. 5000pnts (...ish...) of PDF Defenders (Played by a friend) are Dug-In and 1000pnts (...ish...) of Space Marines are in reserve to enter play on Turn 5. (But I didn't know that at the time)
Please don't ask what the OOB was, I can't remember, sorry.
I never even thought of taking a photo before starting the battle but I'll rectify that on the next BatRep. I've also got very few photo's through out (too busy at the time) but I hope that what there is, was worthwhile. ?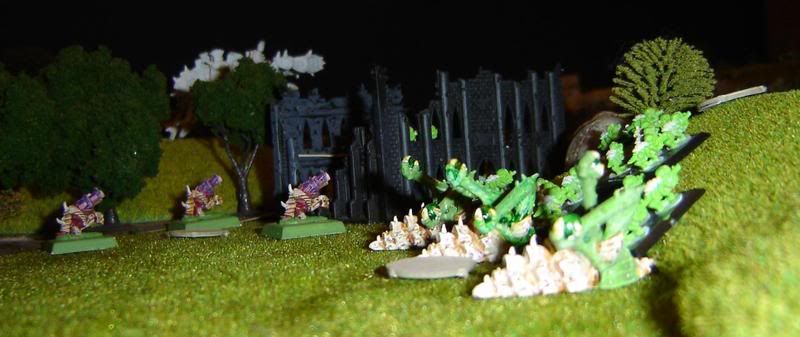 Turn 1 - Tyranid Artillery units Lurk behind cover while the Termagants go over the top.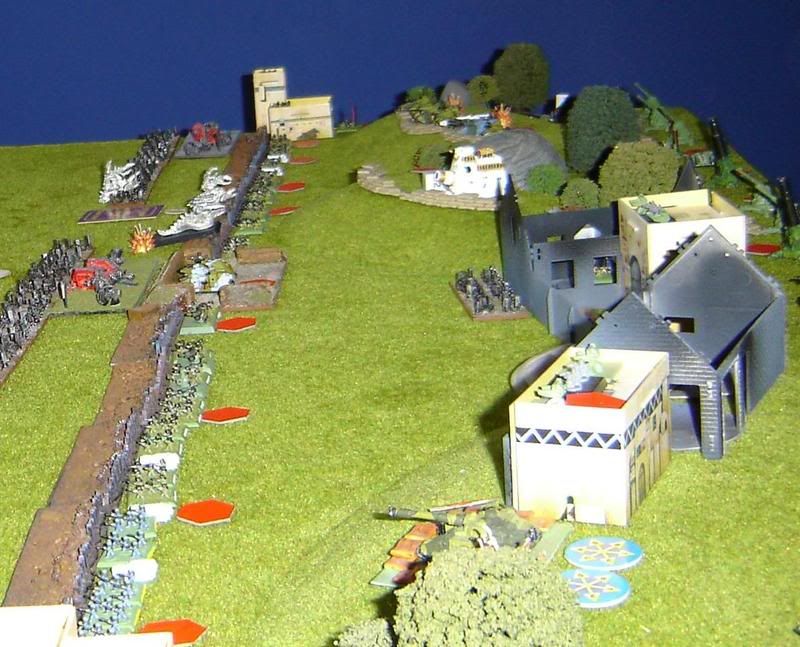 Turn 2 - PDF hold firm under fire
No picture of this but the Hierophant took a load of heavy fire causing enough damage to make it collapse on the spot. (Brace yourself... House Rule coming up...)
Units that become Immobilized during battle due to damage are vulnerable to attack. They may not move, even to turn in place. They half their Caf result in Close Combat and all enemy Ranged attacks targeted against it gain a +1 to hit. Units with Wounds become Immobilized when they exceed their Wound limit and are placed on their side. Not to be mixed with Static support/artillery weapons.
(I'm cringing anticipating the replies to this one... as I imagine your are cringing while reading it.)
You may only ever apply one result of 'half Caf' so other damage... say severed legs etc does not further modify the Caf.
Anyway the Bio-Titan got properly pounded after this causing multiple wounds (12 in total plus at least three Critical Hits.) However not only does it then go and regenerate six wounds it also heals one of the Critical Hits.
The good news was that it was left with two severed legs so it was still immobile. Armed with a Pyro Acid Spray, Ripper Tentacles and Stinger Salvo it was left just within range of the defenders front line...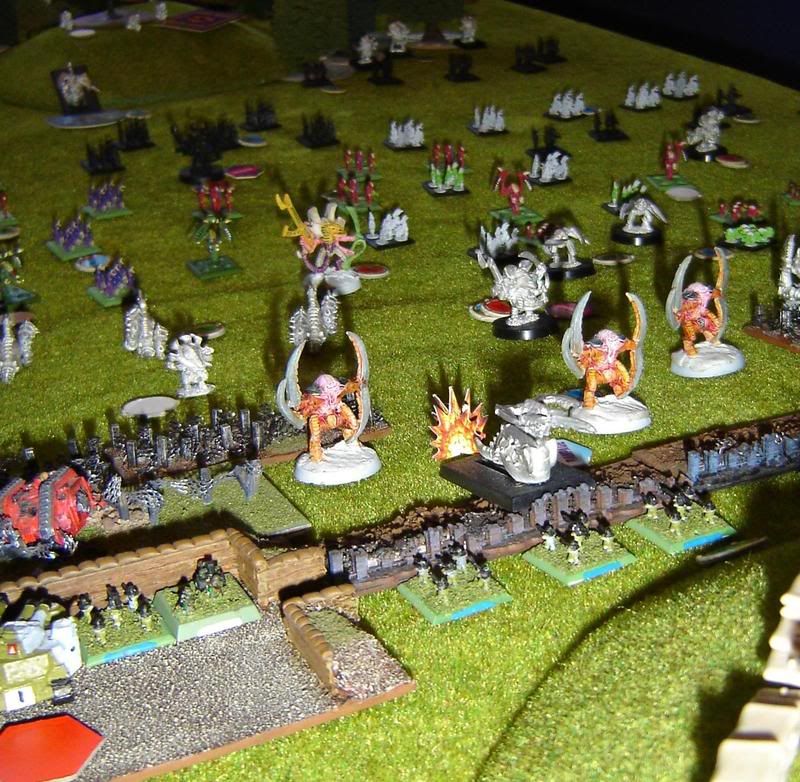 Turn 3 - The main Tyranid Assault finally crashes home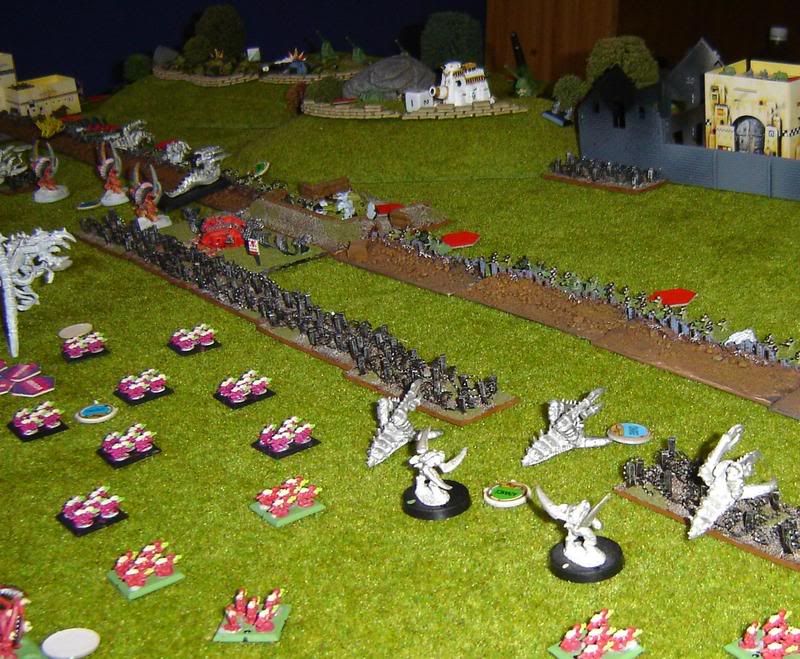 Turn 3 - The razor wire is breach on both Flanks.
(Another House Rule... sigh)
Haruspex have a Bulldoze ability - similar to Ork Bonebreaker Deathrolla'. This allows them while on Charge orders to remove Razorwire (only) on a 4+. If they fail they get caught up in the wire and must try again next turn.
(Come on look at the size of the claws on the thing)

Turn 4 - The next assault waves close in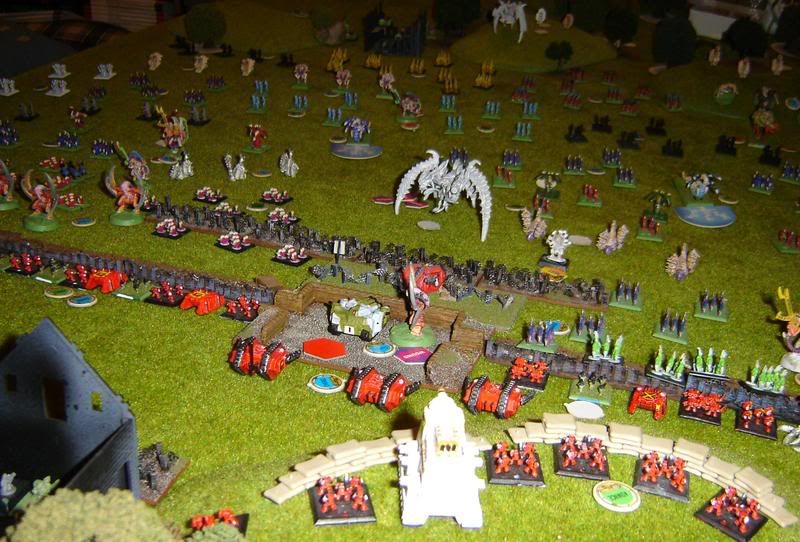 Turn 5 - The Blood Angels arrive. Devastators take up defensive positions while Tactical and Assault Marines rush to secure the front line.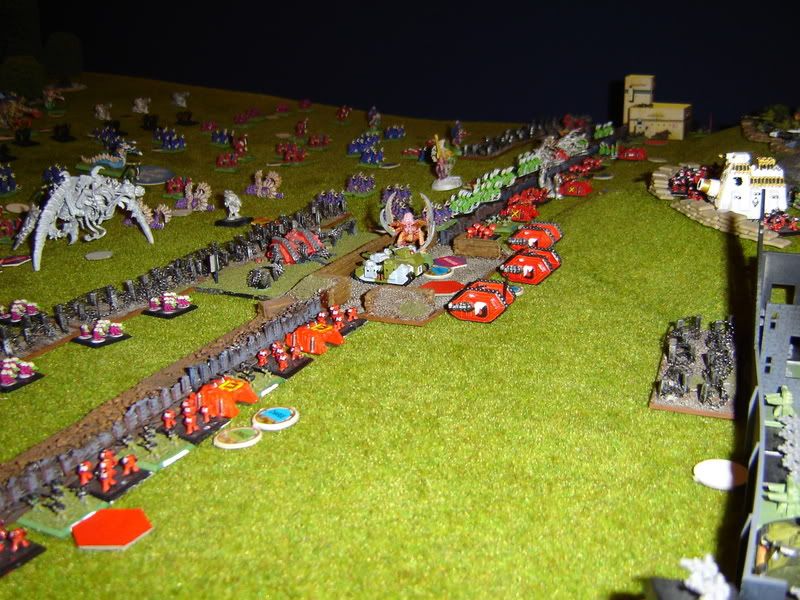 Turn 5 - The Imperial position is Swamped as defenders struggle to stem the tide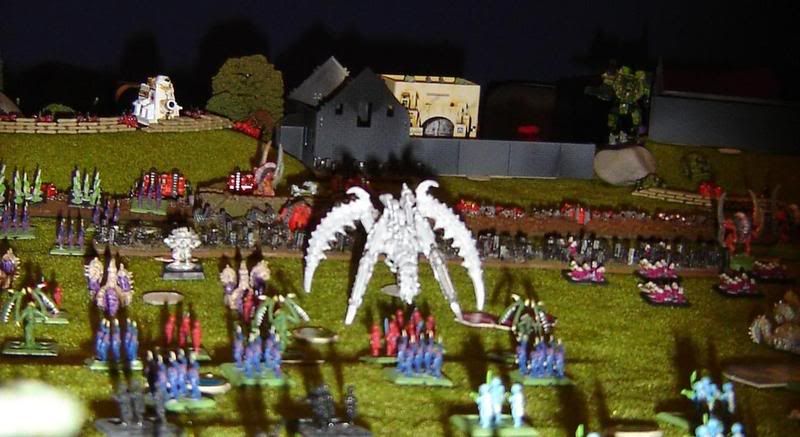 Turn 5 - The Imperial Warlord Titan 'Warchild' fails in it's attempt to finish off the Hierophant while keeping out of the Dominatrix line of sight. Screaming her hate she strips the Warlords shields bare and later a shot from the Hierodule armed with a Bile Launcher (and a carefully horded Pathogenic Slime Hive Mind Card) manages to breach the reactor..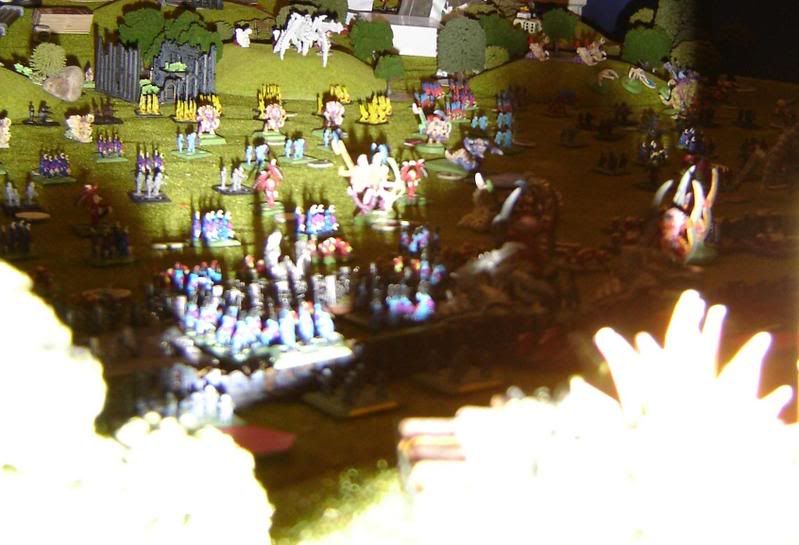 Turn 5 - Further damage to the reactor causes Warchild to explode spectacularly! Boiling gases wipe out many of the tightly packed defenders on that flank.
Unfortunately I took no more pictures but by the end of the Combat Phase of Turn 5 the PDF were all but routed while the Space Marines were left to face the next onslaught.
Both players agree to call it...
Tyranid Victory!