Turn 2
Initiative Imperial Guard
Overview of the Battle
Much of the Imperial tank horde continued to advance, putting pressure on the left flank of the Eldar.  The Knight Commander recognised that and ordered the Towering knights to slip left while the Fire Knights continued forward to consolidate the ruined city.  The Guard commander recognised the importance of the Webway portal and his MBTs made a concerted push for it with a mighty Stormhammer in support.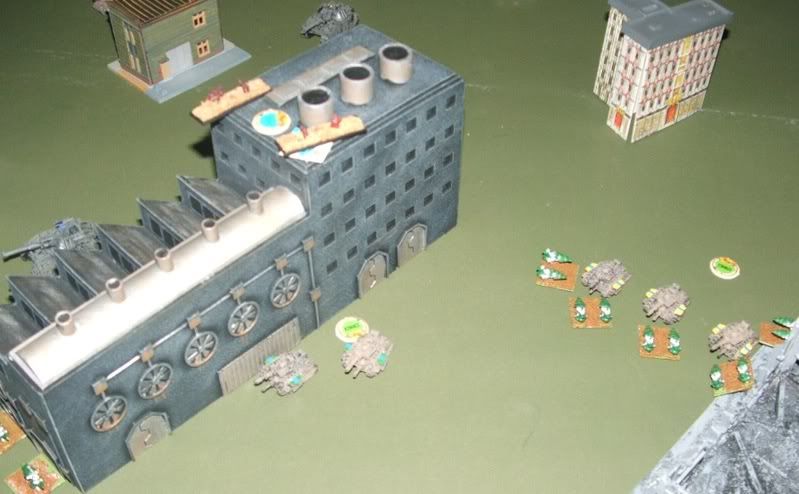 Contact
The Eldar jetbikes continued to harass the Imperial armour but again their point defense weapons met with success.   The Imperial tanks just rumbled forward ignoring the Eldar skimmers.  The supporting Vypers primed their Shuriken cannon.
Tables had been turned and now the left flank was a target rich environment for the Eldar forces.  The two Defender detachments opened fire, destroying 3 Leman Rus and knocking a Vulture out of the air.  The Eldar forces poured fire into the Stormhammer but it appeared the huge tank was invulnerable.  
Fire on the right flank was desultory, though a long range shot from a Fire Gale did manage to damage the command Shadow Sword.  In the centre the Vypers failed to hit anything but the Imperial tanks mowed down numerous Eldar jetbikes.  They had little luck targetting the enemy Knights however.
In the last action of the turn a surviving Bright Stallion punched 2 shots through the armor of the Storm Hammer and the giant vehicle finally ground to a stop with smoke billowing from blown hatches.  The Eldar could not stop the Imperial tanks from capturing the Portal however.
Eldar 37 vs Imperial 26
Turn 3
Initiative Eldar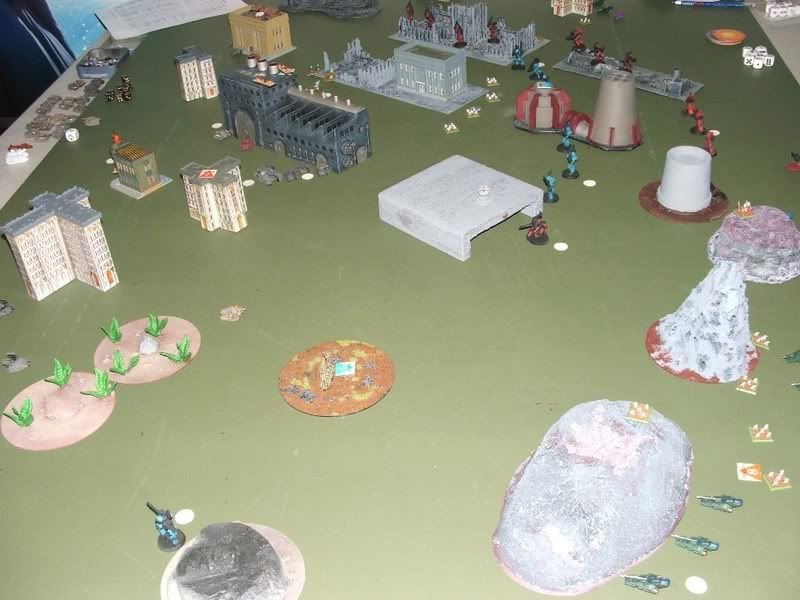 Units thinning
With the left flank nearly scoured of units, the Eldar Knights continue to reposition.  Towering Destroyers move around the tank depot and Fire Gales try to flank the remaining Imperial tanks.  For their part, the Imperial forces shrug off their losses and continue to push ahead.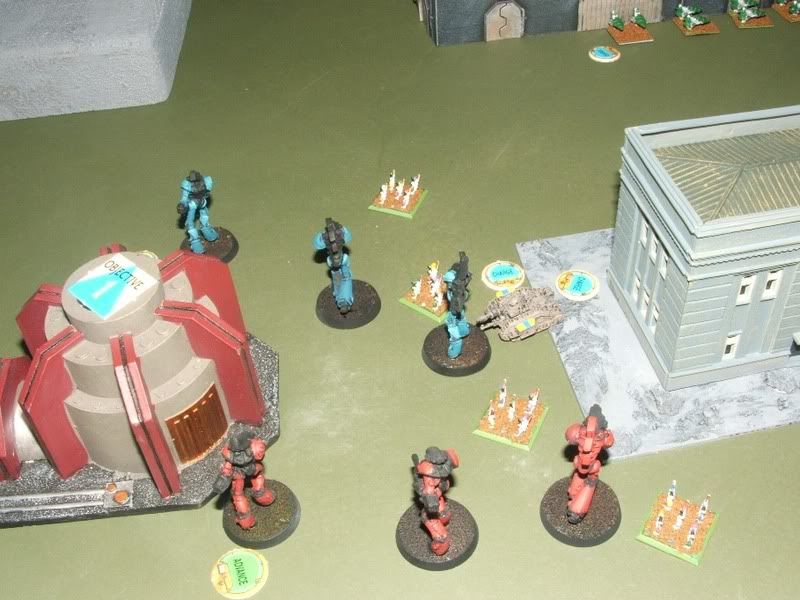 Tank Assault
Seeing a tall Eldar war machine step from behind a building, one audacious commander successfully rams it with his tank.  In return the Knights comrades quickly turn the tank to slag.
The Imperial forces wipe out the last of the Bright Stallions but the return fire from the Eldar proves brutal.  Many of the medium tanks are destroyed and ripple fire from a trio of Falcons overwhelm the defenses of a Shadow Sword.  The first of the Fire Gales is brought down by an Executioner and Vultures account for some Guardians.
Despite the carnage, the Imperial forces still hold the Webway Portal, though jetbikes are contesting their hold of the centre.  The Imperials are bloodied but unbowed, and having failed to secure the portal in time, the Warlocks order the Knight hosts to withdraw.
Eldar 37 vs Imperial 21