Richard and I got a playtest game in yesterday, trying out assorted changes in these two lists.
DEATH GUARD LIST
062 Daemon-heavy, 3000 POINTS
Death Guard (NetEA V0.6.2)
==================================================
PLAGUE MARINE RETINUE [465]
7 Plague Marines, Death Guard Daemon Prince, 3 (Beasts) Chaos Spawn, Daemonic Pact (includes 1 Lesser Daemon)
BLIGHTLORD TERMINATORS [480]
4 Blightlord Terminators, Plaguecaster Lord, Nurgle's Rotters, Teleportarium, Daemonic Pact (includes 1 Lesser Daemon), Nurgling Infestation (1+1D3 Nurgling Swarms)
PLAGUE MARINE RETINUE [415]
7 Plague Marines, Lord of Contagion (Supreme Commander), Daemonic Pact (includes 1 Lesser Daemon), 4 Death Guard Rhino
CONTAGION TOWERS* [400]
4 Contagion Towers, (Walkers) Desecrator
DEATH GUARD CHOSEN [290]
4 Plague Marine Chosen, Daemonic Pact (includes 1 Lesser Daemon), 3 (Beasts) Beasts of Nurgle
PLAGUE ZOMBIE INFESTATION* [175]
3+2D6 Plague Zombies
PLAGUE ZOMBIE INFESTATION* [175]
3+2D6 Plague Zombies
DAEMON POOL [75]
5 Lesser Daemon (Plaguebearers)
ARMOURED ASSAULT COMPANY [250]
6 Death Guard Vindicators
FESTER TITAN [275]
DARK ANGELS LIST
Incompertus, 3000 POINTS
Dark Angels (NetEA Dark Angels v1.95 TCMD forum)
==================================================
LAND RAIDERS [250]
3 Land Raiders
DEATHWING TERMINATORS [400]
4 Deathwing Terminators, Interrogator Chaplain
DEATHWING TERMINATORS [350]
4 Deathwing Terminators
DEATHWING DREADNOUGHTS [300]
5 Deathwing Dreadnoughts plus Transport
RAVENWING SUPPORT [250]
5 Ravenwing Land Speeder Venegance
RAVENWING ATTACK [450]
1x Ravenwing Black Knights, 3x Ravenwing Land Speeder, 4 Ravenwing Assault Bikes, Grand Master
RAVENWING NEPHILIM [225]
2 Ravenwing Nephilim Interceptors
RAVENWING DARK TALON [225]
2 Ravenwing Dark Talons
STRIKE CRUISER [200]
Strike Cruiser
DEVASTATORS [350]
4 Dark Angels Devastators plus Transport, 2 Dark Angels Stalkers
DEPLOYMENT
DG-half objectives in green, DA in white: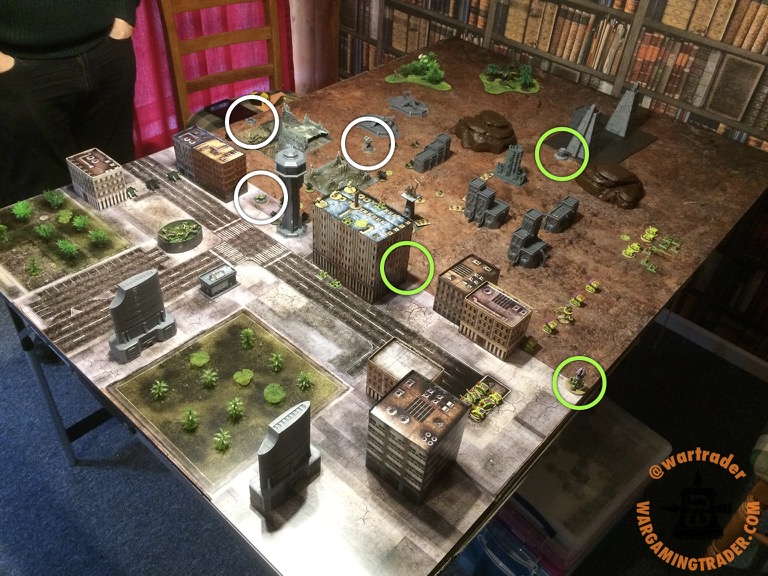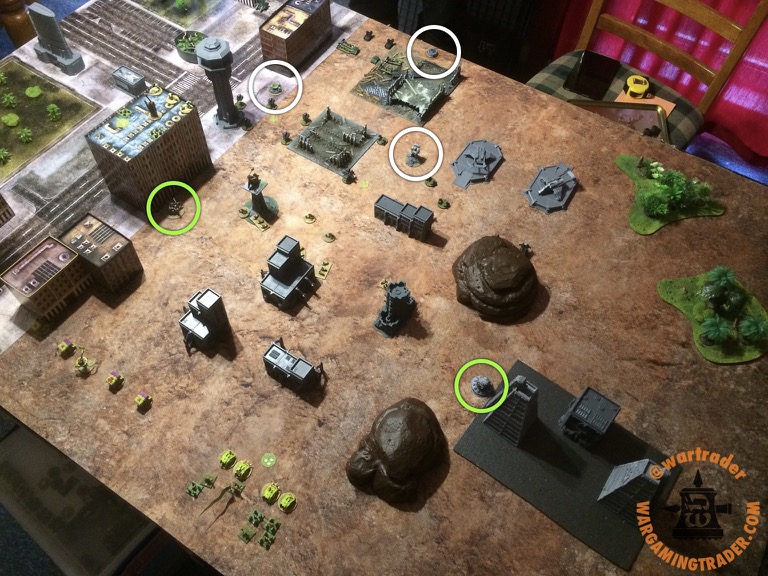 We were treating the parkland as -1 to hit for being in cover, but no other effect.
The roads were roads.
Grean areas were woodland, treated as abstract area terrain.
Individual buildings blocked LoF as-is to units behind them, and were area terrain internally.
The grey rectangle was buildings for movement, with LoF blocked as-is.
The DA Spacecraft was due to arrive in turn one.
Two Ravenwing formations garrisoned, facing off against my Prince's Retinue and the Chosen.
TURN ONE
DA win strategy.
DG bring in one Zombie formation to cover the left flank of the Prince's Retinue from teleporters etc.
DA Spacecraft arrives, and the barrage breaks the Contagions.
> Deathwing Dreads land via Drop Pod, placing BMs on the Vindicators, Fester and Zombies, but no kills!
> White Deathwing with Chaplain land on my left flank, while the Black Deathwing arrive on my right flank, off the appropriate Ravenwing formations.
DA RETAIN to COORDINATED ASSAULT with the Black DW and the Grand Master's Ravenwing, breaking the Chosen (and killing off the Beasts of Nurgle via hackdowns).
DG Armoured Assault Company SUSTAIN into the DW Dreads for a kill, but use the SC re-roll to activate.
DG RETAIN with the Fester Titan, to SUSTAIN into the DW Dreads, killing another 2 and breaking them with massed Disrupt hits.
DA Dark Talons arrive and attack the SC's Retinue, with a Rhino full of Plague Marines dying to a MW hit.
DA RETAIN with the Nephilim onto the Prince's formation, to little effect.
DG Prince's Retinue ENGAGE the Ravenwing Vengeances on Overwatch but lose. Not having used Daemons for ages, I forgot to summon before activating the formation! Nurgle's Rot claims 1 downed Speeder, taking the Daemon Pool up to 10. Remaining Ravenwing consolidate into a supporting position for...
DA Land Raiders ENGAGE the Zombies, killing two and winning the assault.
DG SC's Retinue summon 1 Plaguebearer into the empty transport slot in a Rhino, and ENGAGE the Black DW with Firefight. Both sides kill 1 unit, DG win but get no Plaguebearers from Nurgle's Rot.
DA White DW ADVANCE and kill a Zombie.
TURN ONE ENDPHASE & NOTES
3 DG formations had been broken before they could activate.
Broken Prince's Retinue rally, with 3BM.
Broken Zombies fail, and reposition to be irritating.
Broken Black DW rally with 2BM.
Broken DW Dreads fail with SC re-roll and reposition into the scrubland.
Unbroken SC's Retinue fail to rally, and keep their 4BMs.
Broken Chosen fail to rally, and move further left.
Broken Contagions (2 Contagions + 1 Desecrator remaining) rally with 1BM.