This is how things were at the start: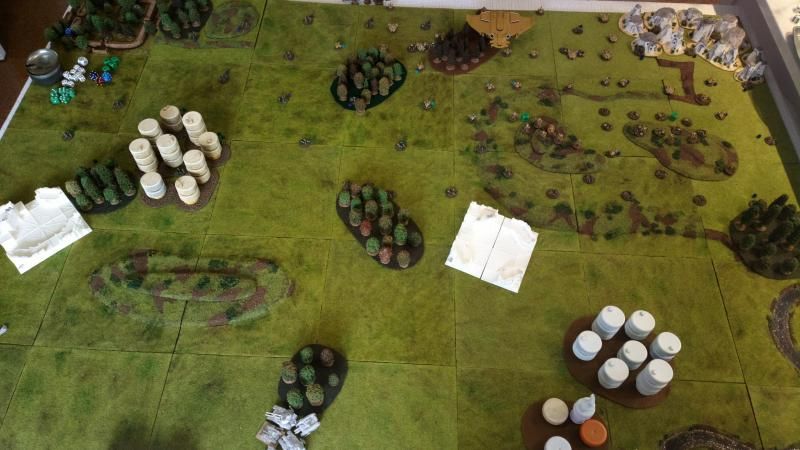 A huge mass of well prepared Tau scouts: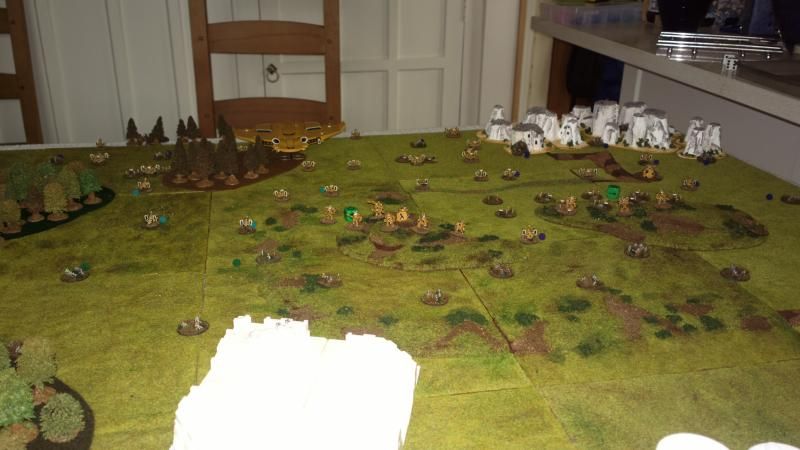 With only a single formation of Space Marine relic armour (Land Raiders in game terms) on the board: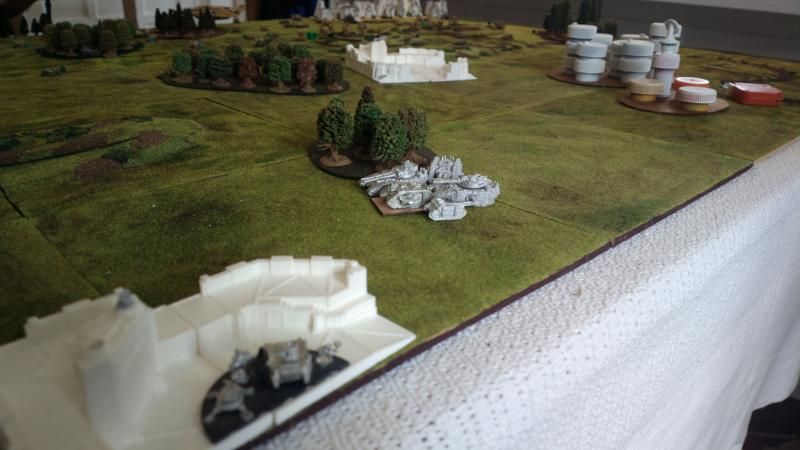 Turn 1
Black Templars win the initiative and the
Glory in Genocide
passes overhead in high orbit and hammers the Manta with strikes from it's lance batteries. A point of damage is caused, luckily critically damaging the Manta's Deflector Shields in the process, downing them for the rest of the game. One other nearby formation takes a BM.
Two Deathwind Drop Pods crash down and unleash a barrage of fire in all directions, putting two blast markers on Kroot formations in the area, before being joined shortly afterwards by Drop Pods containing the Sword Brethren and the Emperor's Champion. Excuse the unfinished and not that appropriate infantry stand in models.
The Landing Craft thinks better of it's initial landing site due to the scouts and planetfalls some way away on the Castellum Stronghold, disembarking it's two Crusaders with LRC formations. In it's eagerness to get them into battle the Landing Craft lands precariously with it's front landing gear up on the Castellum Stronghold's wall section.
As the Land Raider Crusaders disengage from their docking clamps and rumble into position they come under overwatch fire from a Broadside formation, killing a stand of Tactical Marines from the BTS formation.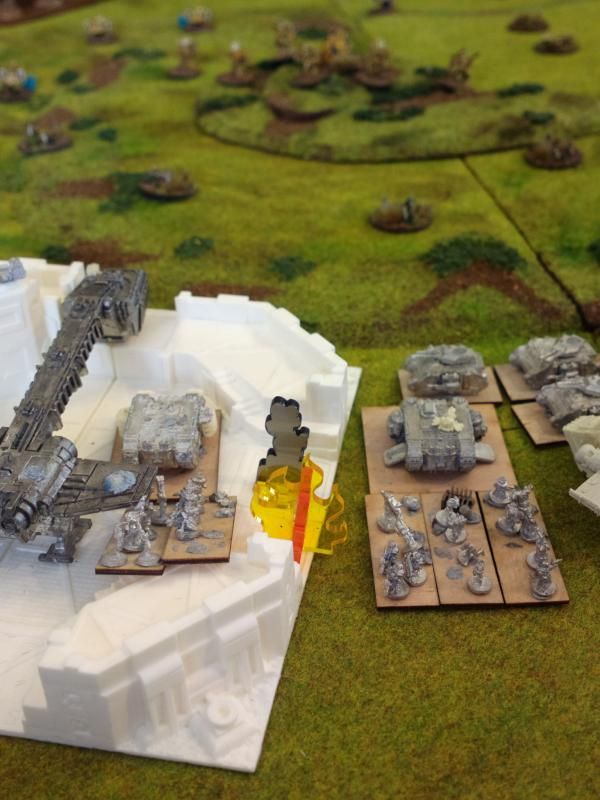 The Thunderhawk Transporters carrying Predator Annihilators similarly get their drop coordinates moved to a good landing ground and end up nearby. Given that they planetfell and got dropped off for free the Predator Annihilators get to sustained fire, targeting the Broadsides to get some revenge (and before the fragile Predators get killed). Two Broadsides are killed.
A Tau Recon formation gets on the comm-link to the Manta and calls in a coordinated fire action on the other Land Raider Crusader formation. They double themselves getting into a position to get a crossfire: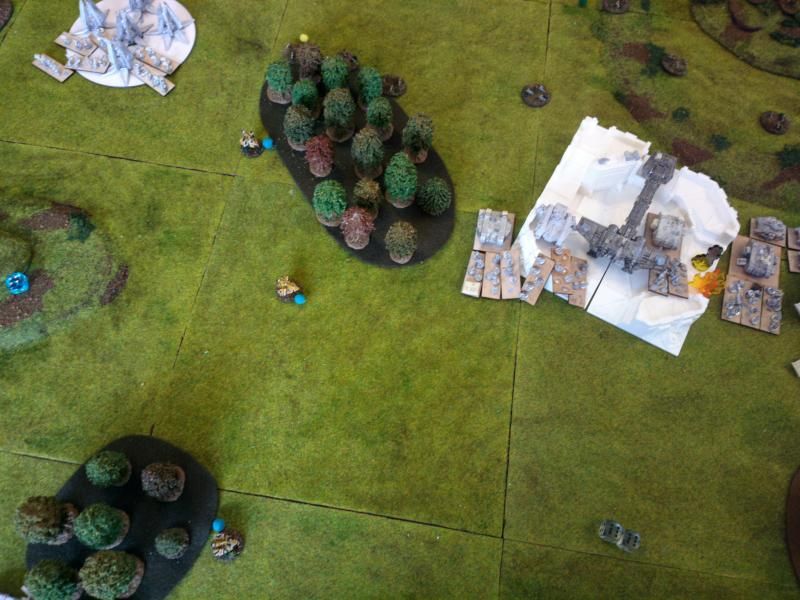 The Manta moves into position and unleashes a devestating salvo with crossfire...
Brace for impact!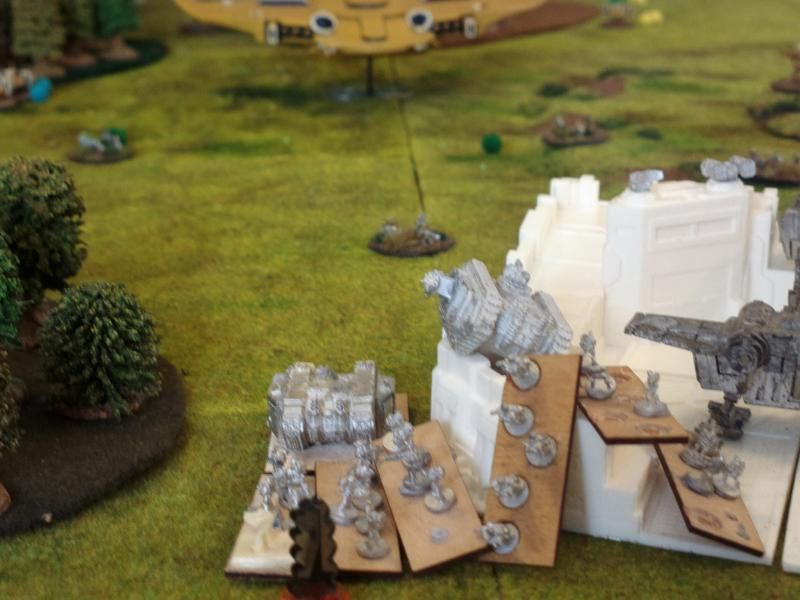 ...the Manta kills both the formations Land Raider Crusaders and 3 stands of Tacticals.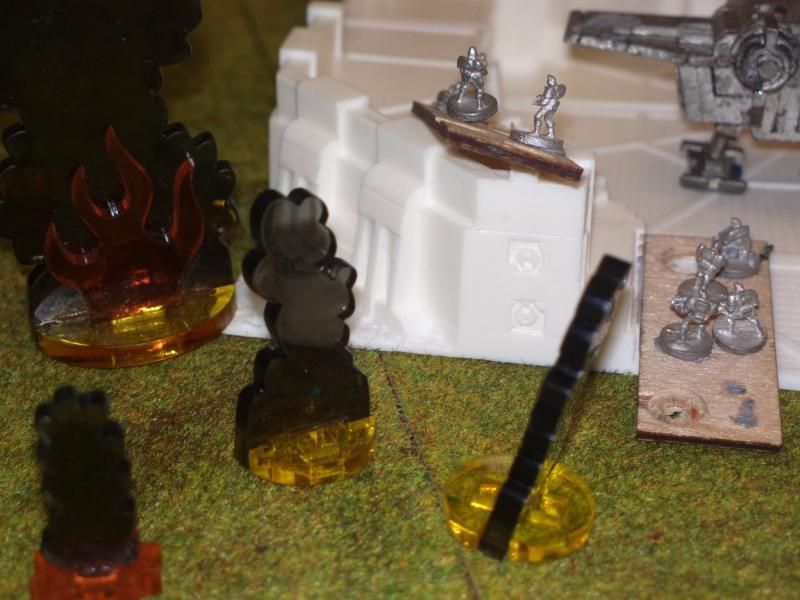 Commander Delphon cries out for vengengage and orders his relic armour (Land Raiders) forwards to attack the Recon formation, killing 4.
The landed Thunderhawk Transporters are actually in range to assault a formation so they do. With only FF6+ they don't kill any themselves but support fire kills 3 and 4 more die in resolution. Go THTs!
The surviving Kroot flee to some nearby woods: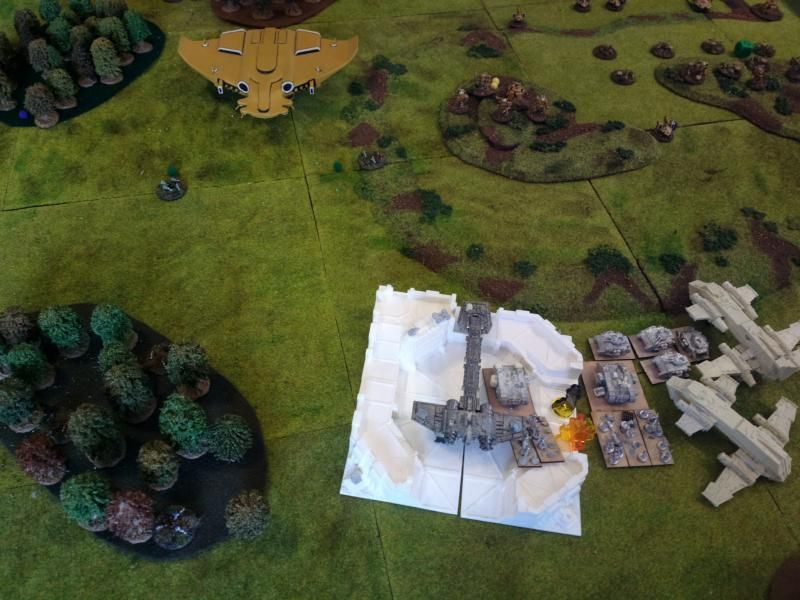 Kroot near the Sword Brethren marshal and move closer to them.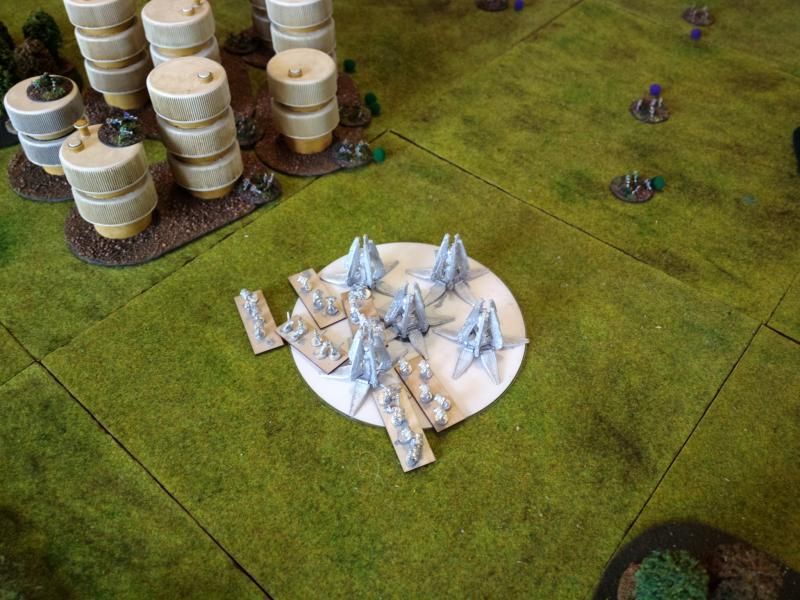 The second Thunderhawk roars onto the table...
...and air assaults the Broadsides (hiding behind the hill to stay out of overwatch fire), all 4 hits result in failed saves unluckily, despite their reinforced armour and the Broadsides are wiped out (luckily meaning no support fire).
They consolidate closer to the Manta, hoping to build up a firebase of support fire to engage it.
Tau Fire Warriors engage them in return, two die on each side but the SMs loose combat resolution by 2 and a Dreadnought and the Thunderhawk are wiped out.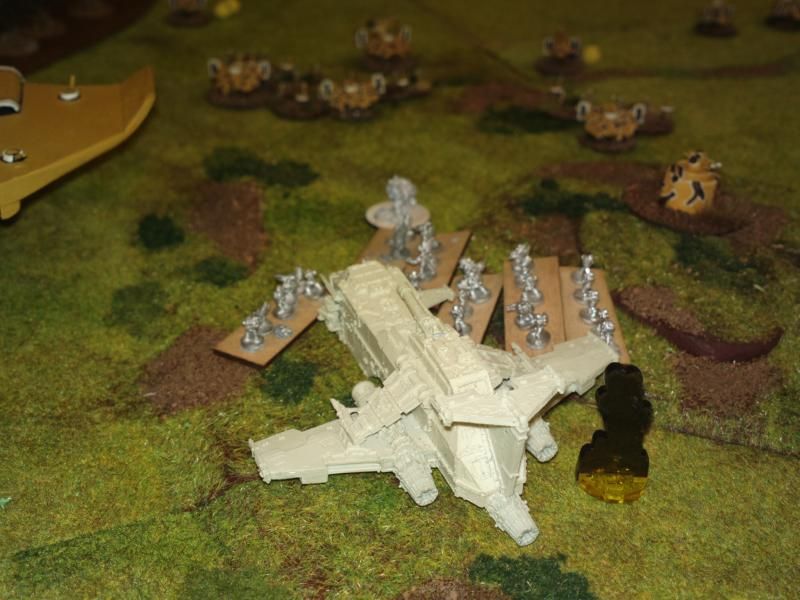 The survivors
leg it
tactically retreat past the Thundehawk Transporters.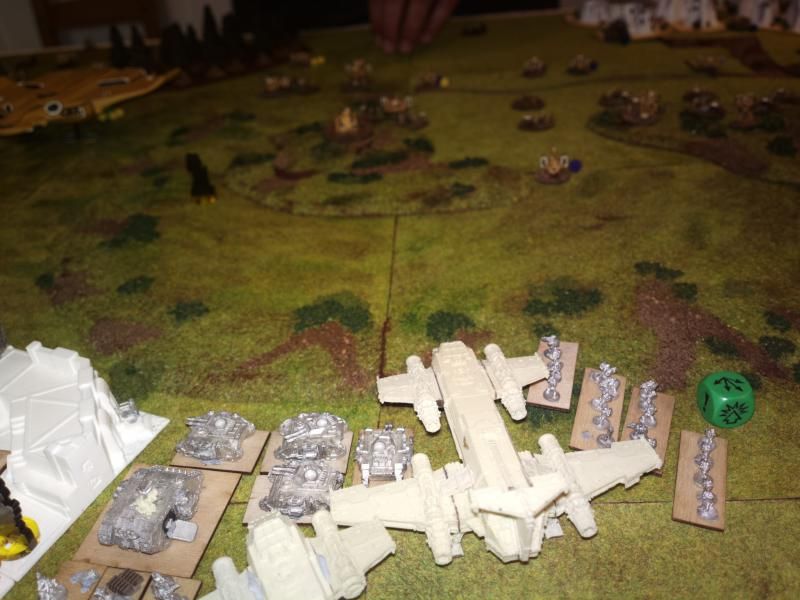 The Black Templars BTS Crusaders double (to a position to support fire on the Manta) and shoot Kroot in their way, killing two.
They are then engaged by another Kroot formation, impressively managing to shoot a Land Raider Crusader to death with their rifles in the combat. Two Kroot die in return however and luckily the Templars win by 1.
The other Thunderhawk screams on and air assaults the Manta...
...doing one point of damage. Support fire from the BTS does two more and highly unusually both are criticals causing 2 more damage again. The Manta looses by a whopping 8 but is Fearless so just beats a hasty retreat to a table corner.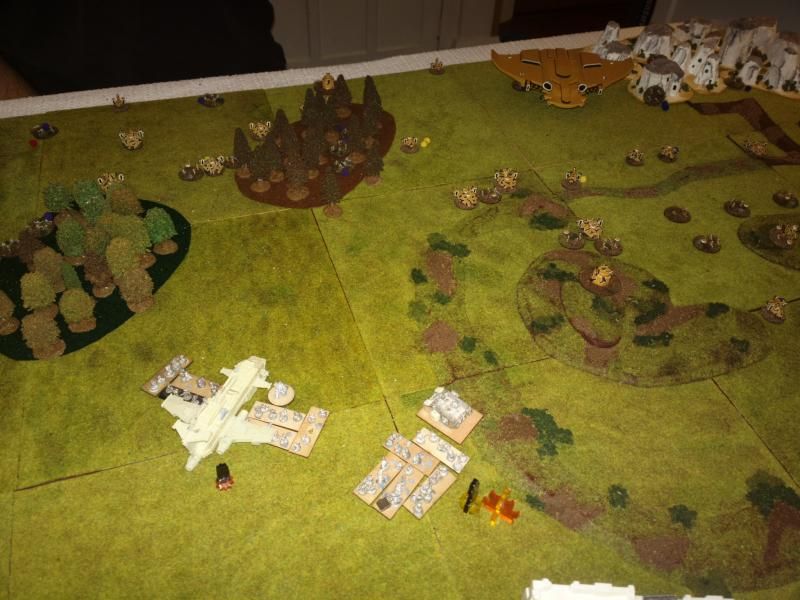 Tigersharks stand down.
Thorius "Charge now my brothers, kill them all!!!" - Sword Brethren with Emperor's Champion engage the Kroot in the building. They only kill one but have luck in combat resolution and win by 5.
Tau Recon fails to call in coordinated fire and clears BMs.
Time to unleash the deadliest warriors in my arsenal – the Assault Terminators and Chaplain in a pair of Caestus Assault Rams (the two flyers next to each other counting as a single Thunderhawk in game terms) to air assault a Fire Warrior formation...
Quote:
"Suffer not the alien to live!" roared Chaplain Cantus.
"Slaughter him with your wrath! In the name..."
"What?!?" Cantus looked affronted at being suddenly interrupted from his tirade
"What is it brother pilot?" He spoke into his communicator a little exasperatingly and and paused to listen.
"Never!" shouted Cantus incredulously. "Faith is our shield, brother-pilot, always remember that. The Emperor made our holy Caestuses proof against any fire! Soon you will land us safely and we will put the xenos to the sw...".
Final audio recording from the Caestus's Obsidian Casket. Recovered two weeks later by an Earth caste team from the rescue fleet from the wreckage at the crash site. Translated by Water caste envoy Han'es'voi.
…and are shot down. Skyrays do 1 point of damage to it, then Baracudas intercept and kill it. Oh no! My best air assault goes down in flames! On paper they're powerful but I often seem to have poor luck with my assault terminators...
The Fire Warriors with Broadsides abandon their overwatch and move to attack my BTS Crusaders killing 4 and their Land Raider Crusader.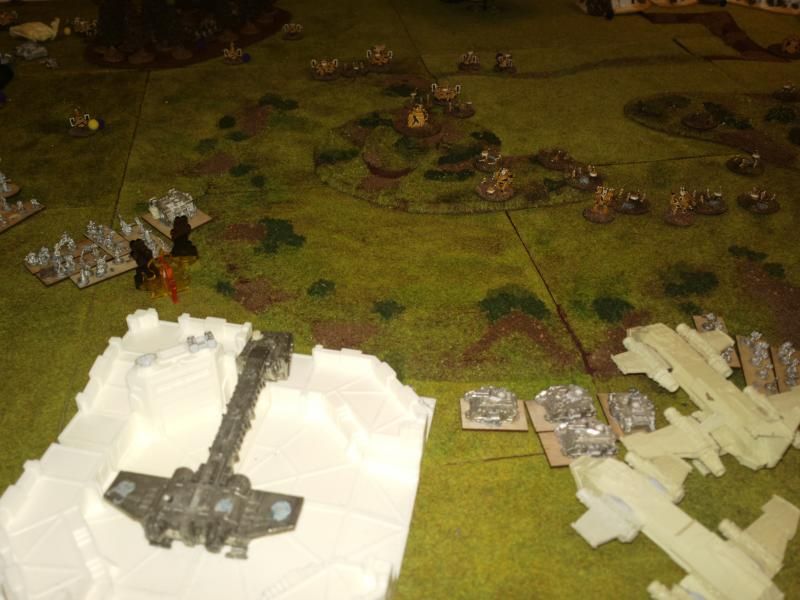 The sole surviving stand flees to the safety of the Castellum.
Kroot fail to engage.
Fire Warriors shoot the Crusaders that are celebrating after their victory versus the Manta, killing 4 Tactical stands and their Contemptor Dreadnought.
Barracudas attack broken formation but do no damage.
Barracudas fly off fine. THT fly off taking a BM. Landing Craft and the surviving Thunderhawk stay on table.
The heavily damaged Manta (with broken shields) is understandably shaken up and fails to rally.
The Emperor's 'finest' running away corner, as three formations fail to rally:
End of turn aerial photo:
Turn 2
I win strategy again and sustained fire with the Predator Annihilators again, wanting to use them before they maybe get killed. Their salvo of Lascannons scores 5 hits... all of which the Broadsides save.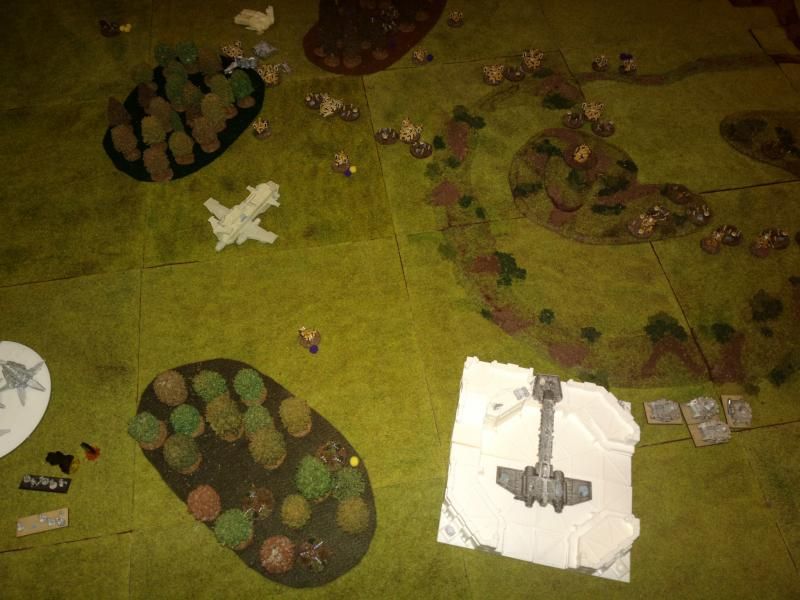 Thunderhawk on the ground retains, fails but shoots the nearby Recon formation anyway, killing 1.
The Kroot engage the Thunderhawk...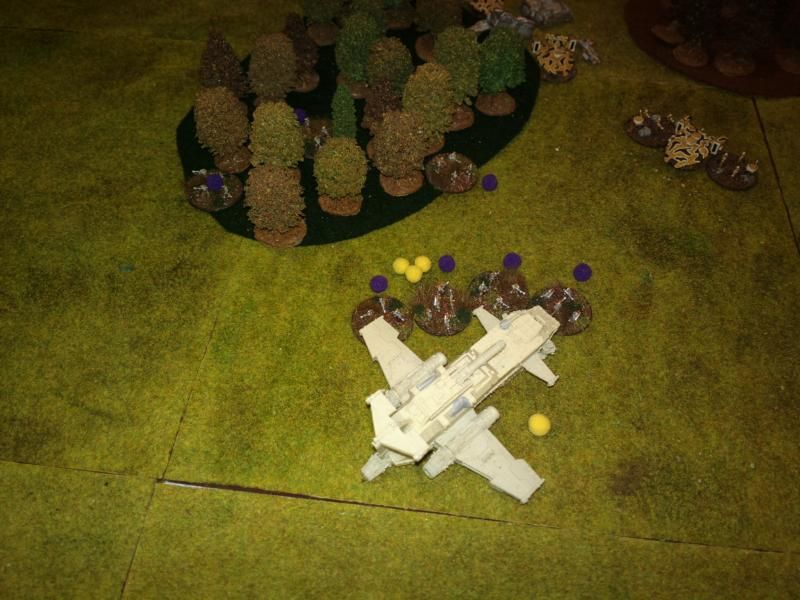 ...and feast on it's tasty crew. Nom nom nom.
The two Tactical Marines shoot the last surviving vehicle of a Recon formation (that had rallied near the left Castellum) and kill it.
Recon formation has had enough of the Predator Anhilators and calls in coordinated fire from the Fire Warriors with Broadsides. The Recon formation loops around for crossfire and places a BM.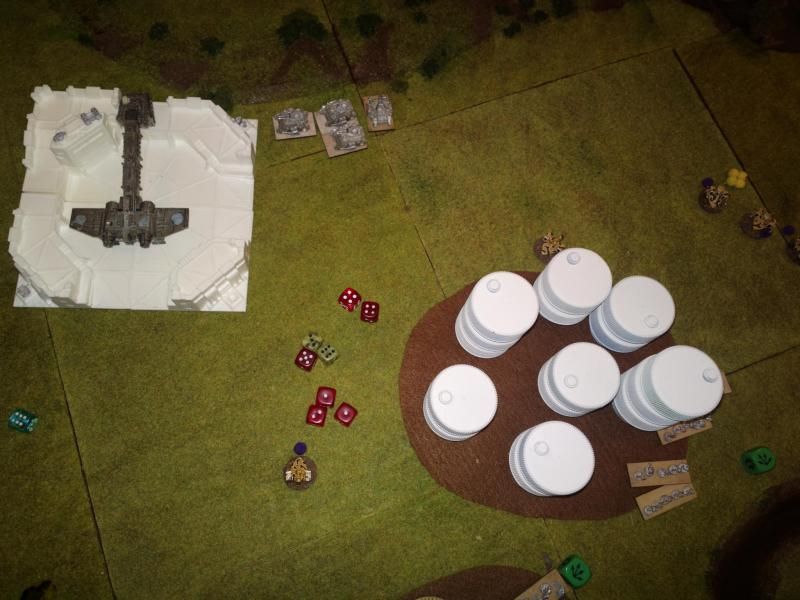 Fire Warriors and Broadsides kill 3 Predators: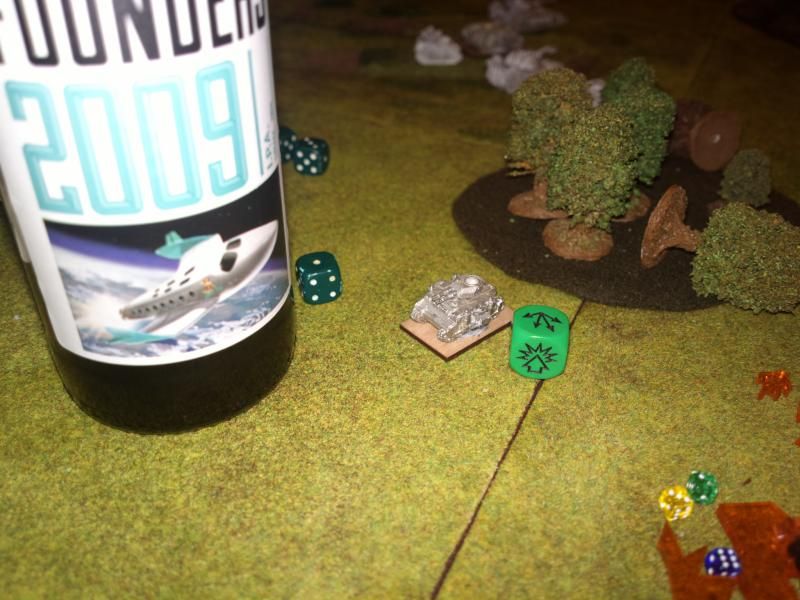 Landing Craft gets revenge by killing 2 of the Recon formation, breaking them.
Sword Brethren assault the 2 remaining Kroot stands in the formation by the left Castellum, killing both.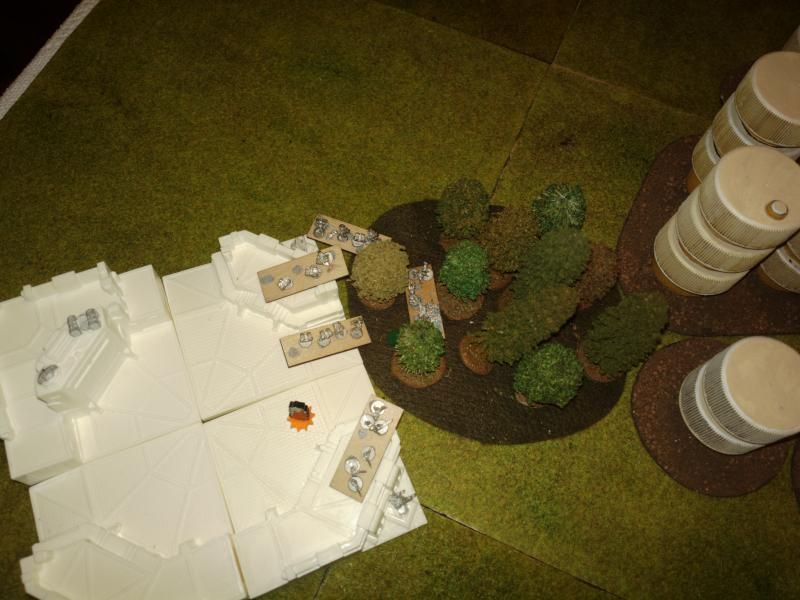 Kroot fail to activate.
Relic armour (Land Raiders) double and kill a Fire Warrior and two vehicles.
Kroot think about moving to capture the Blitz but fail to activate.
Fire Warriors and Broadsides fail to activate but fire anyway, doing a point of damage to the Landing Craft.
Barracudas put a BM on the Landing Craft.
Mechanised Fire Warriors try to march to capture the Blitz but fail (that was the 4th 1 Andrew rolled out of the last 6 activations at this point).
Tigersharks come on, deploy their Gun Drones and attack my BTS, finally wiping it out.
Thunderhawk Transporters bravely air assault the broken Recon formation...
..they take a point of damage from AA but beat them and wipe them out.
Barracudas ground attack broken SM formation but do no damage.
Kroot yet again fail to activate.
Fire Warriors with Broadsides shoot the Relic Armour (Land Raiders)...
...illing 2.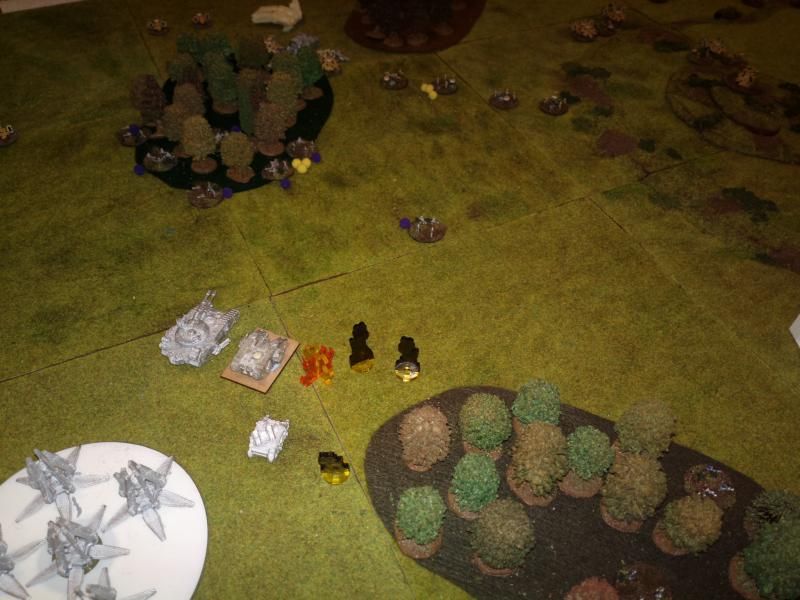 Other Fire Warriors also fail to activate and clear Bms.
After getting repeatedly yelled at the Manta rallies this time.
Turn 3
Black Templars win strategy yet again and sustained fire with Relic Armour (Land Raiders) onto a Recon formation, killing 2 and breaking them.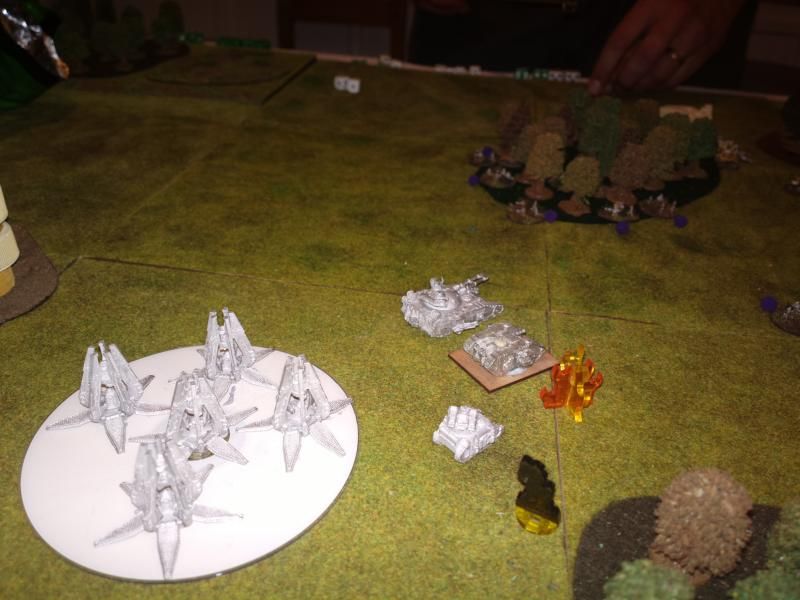 The Landing Craft retains and goes onto overwatch.
Kroot engage the Relic Armour (Land Raiders) doing no damage. They grind them under their vehicles, scoring two hits on 6s though the Shaper saves his one.
Relic armour (Land Raiders) loose and flee towards the Blitz.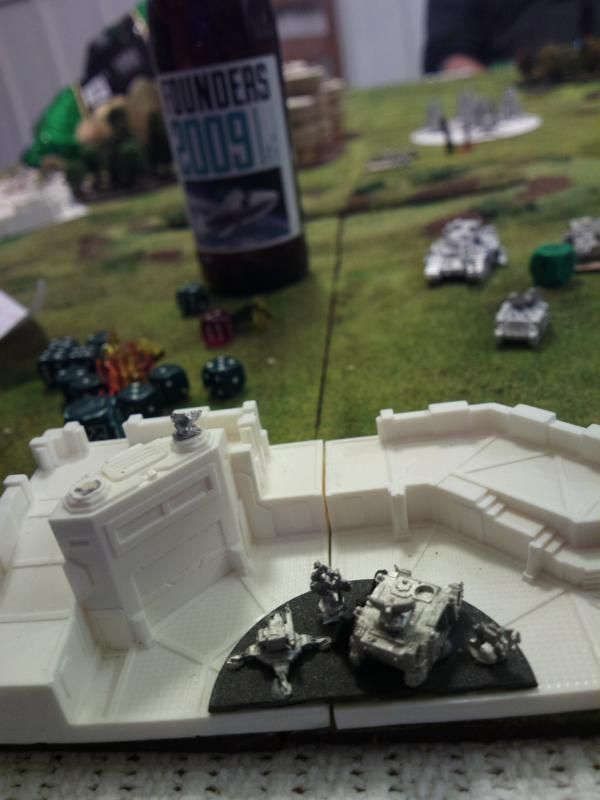 Those plucky two surviving Tactical Marines shoot again, but miss this time.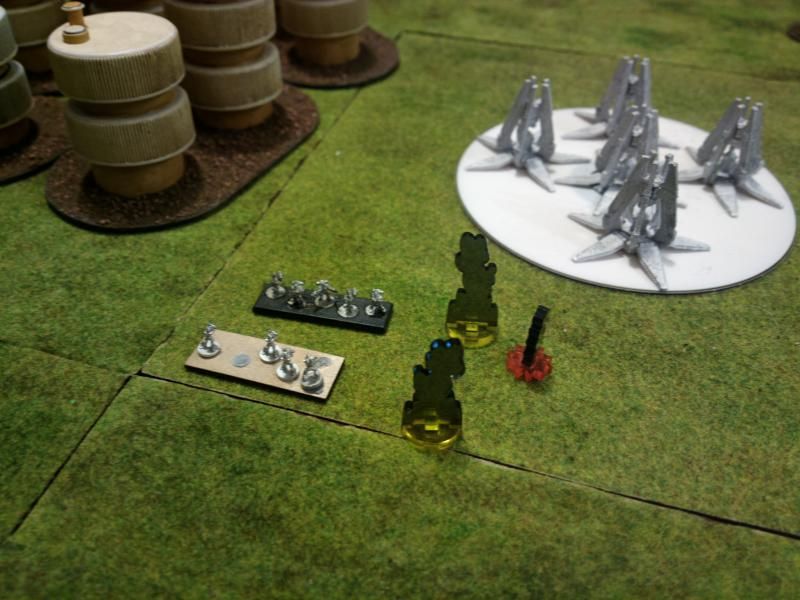 Getting desperate by this point, the Thunderhawk Transporters bravely land by the enemy Blitz (get CAPed but take no damage).
The sole surviving Predator Anhilator near the Blitz goes on overwatch against the oncoming horde.
Tigersharks come on and break it again though (meaning I no longer have Defend the Flag or any way to get it now)
Sword Brethren shuffle over a bit to both capture their Castellum and be in the enemy's table half.
Though having claimed to recovered and be back in the fight the Manta crew are obviously still shaken and not really fancying it as they fail to activate...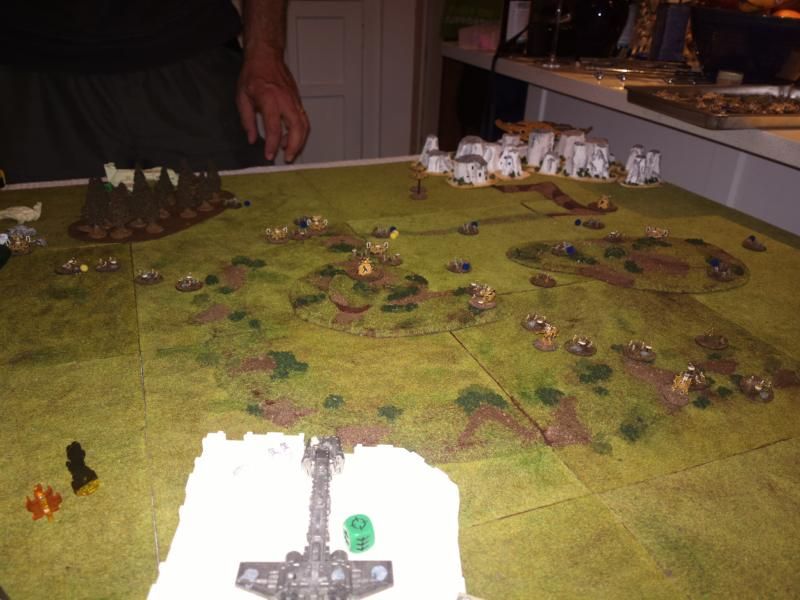 ..it still casually blows apart the front Thunderhawk Transporter regardless though, leaving the other broken.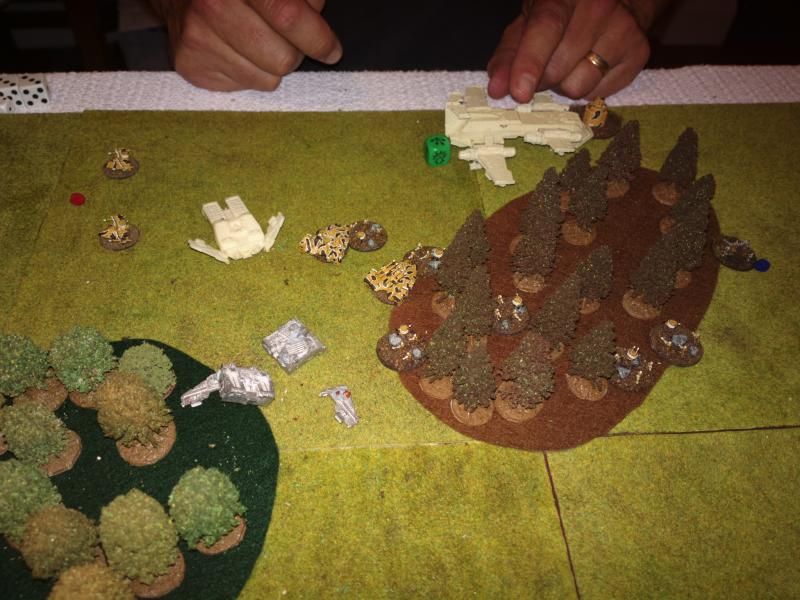 Tau win 2-0 turn 3 with Blitz and Defend the Flag.
High Marshal Thorius shook with anger. He and his Sword Brethren had done well but elsewhere his mighty force had nearly all been wiped out by the xenos scum. As much as he would love to stay and fight and hated having to abandon the Castellums he recognised he was beaten and got on the com-link to request the
Glory in Genocide
send down Thunderhawks to evacuate the few survivors. With Tau forces in the distance fast closing he smiled as a vast shadow swept across the battlefield – now they were for it! His smile froze as he looked up and realised it wasn't
Glory
up there but a Tau spacecraft. Thorius wasn't having a good day...
Post battle assessment: a good game but another loss for the Black Templars. Tau shooting can be brutal, particularly with crossfie. Missing the Landing Craft out accidentally when adding up my points and so being 375 over was annoying. I gave air assault a good go and overall had a lot of good luck during the game. Shame not to get the Manta and if the Terminators hadn't been blown out of the sky things might have gone differently.
Comments and feedback welcome!