These are old OOP Exodus Wars models. I upgraded them with side skirts, add on armor, smoke grenade launchers are from Vanguard.

Stowage - H&Ross, GHQ, etc. A lot from the bitz box and Evergreen plastic cut to fit.

I have so many US decals I have to use'm ! The "Oddball" decal my buddy made me. He is a Tanker from one of my favorite movies "Kelly's Heroes". So, I had to use'm on one of my Tanks ! These will be used as Baneblades. For my primarily Exodus Wars IG Rgt.

FYI these decals are from the US Army's 1st Armored Div. nicknamed "Old Ironside" ...
Attachments:

DSCF0319 (2).JPG [ 384.22 KiB | Viewed 735 times ]

DSCF0324 (2).JPG [ 517.68 KiB | Viewed 735 times ]
DSCF0318 (2).JPG [ 316.86 KiB | Viewed 735 times ]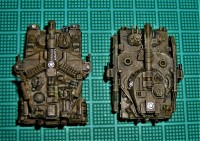 DSCF0322 (2).JPG [ 619.07 KiB | Viewed 735 times ]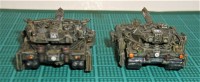 DSCF0320 (2).JPG [ 287.8 KiB | Viewed 736 times ]

_________________
Legion 4 "Cry Havoc, and let slip the Dogs of War !" ... "People sleep peaceably in their beds at night only because rough men stand ready to do violence on their behalf."