Just completed for my IG ... The second one from the Left is the original GW hull, The turret is so very small. So, I figure the Track Commander is in the hull also manning the bow gun. Next to the driver. The Turret would have to have an autoloader and AI suite. This hull also drives we crazy with no fenders. A GW standard it seems. The last two had too much of exposed track. I added GHQ M2/3 Halftrack stowage racks. And on the rear tracks I added Evergreen plastic channel strips. Over the rear track sections. Note in the first track, the FDC radar ... glowing green.
Attachments:

DSCF0057 (2).JPG [ 342.29 KiB | Viewed 1007 times ]
DSCF0069 (2).JPG [ 269.63 KiB | Viewed 1007 times ]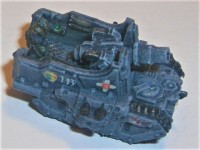 DSCF0070 (2).JPG [ 100.41 KiB | Viewed 1007 times ]
DSCF0063 (2).JPG [ 207.17 KiB | Viewed 1007 times ]
DSCF0058 (2).JPG [ 293.76 KiB | Viewed 1008 times ]

_________________
Legion 4 "Cry Havoc, and let slip the Dogs of War !" ... "People sleep peaceably in their beds at night only because rough men stand ready to do violence on their behalf."