Let me start with a confession: I'm a total Horus Heresy nut. It all started in 1990 with the original Space Marine game. I liked the models and fluff, but it was the artwork that really struck a chord. I spent literally hours staring at Kevin Walker's and Adrian Smith's drawings of power-armoured superhumans blasting and smashing each other to pulp.

I played dozens of games with my friends, trying to recreate these heroic battle scenes. Much fun was had by all, but deep down I always felt a bit disappointed: the rules were just too clunky to allow for large, sweeping battles as depicted in the rulebook. The following editions remedied this to an extent, but deep down I regretted that the HH was no longer the driving fluff element.
Then Forge World released 'Betrayal'. And there it was again, that indescribable HH thrill I remembered from 20+ years ago. It even convinced me to collect a heresy-era army and start playing 40K, a game I tried a couple of times before through demos at my gaming club but had never really liked. After drawing up some army lists, I visited the Forge World online store – and nearly died from shock upon seeing how much the army would cost.
Depression loomed, but then my regular epic opponent discovered Fattdex' excellent legion army list on this very forum. We quickly organised a test battle using our old (and very brightly painted) SM2-era forces and had an absolute blast. Needless to say, we both decided to start new 6 mm heresy-era armies that same evening. Soon after, vintage and not-so-vintage space marine models from all over the globe started arriving in Belgium.
But which Legion to take? I briefly considered Raven Guard or Iron Hands, primarily for ease of painting, but in the end I went for (loyalist) Death Guard on Isstvan III. White, green and gold should make for a striking colour scheme, especially in combination with dark rubble/ruin bases.
So in this thread, I'd like to share my painting efforts with you. In part to keep motivated – I'm a slow painter and a notorious hobby butterfly – but also to thank the many TacCom users who made this army possible by developing army lists or helping me to obtain the necessary models. Cheers guys, you know who you are!
Enough waffling, time for some pics (sorry for the bad pic quality and the red background, slowly learning to take decent pics).
Below, you'll find my first finished units. They're mostly older models, as I prefer to get a bit of practice before tackling the newer and more detailed sculpts. I went for nearly white power armour and vehicles, as opposed to the yellow/brownish white used in the Forge World books. This was done for two reasons: it makes the models stand out more, and I love the 'Galaxy in Flames' cover.
Tactical detachment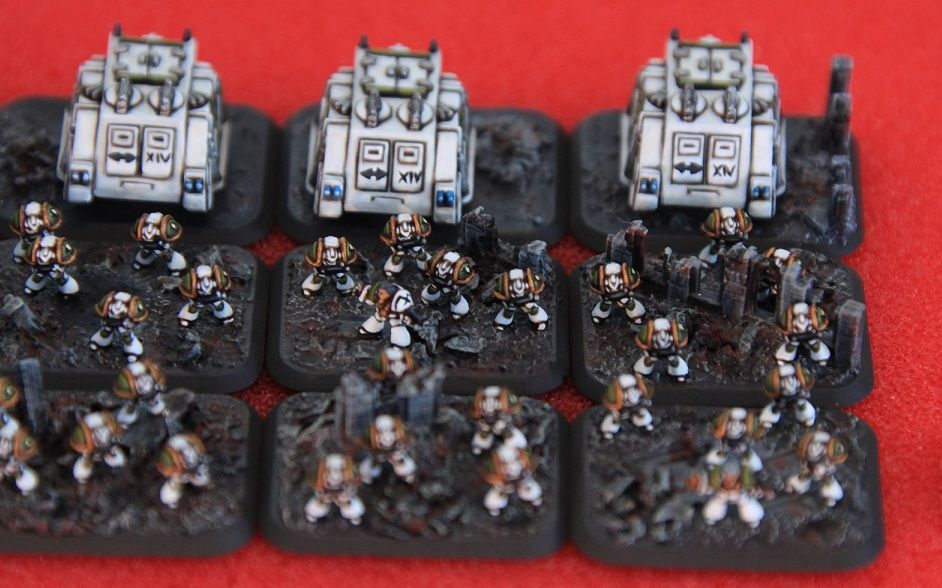 Alternative transport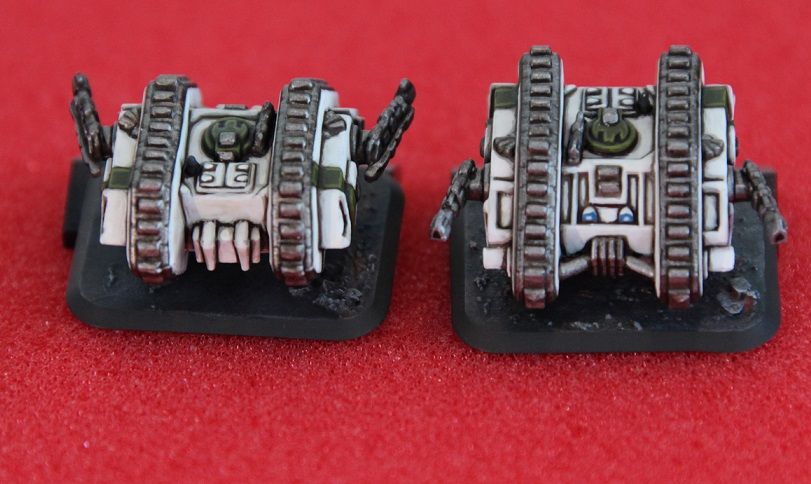 My preferred transport option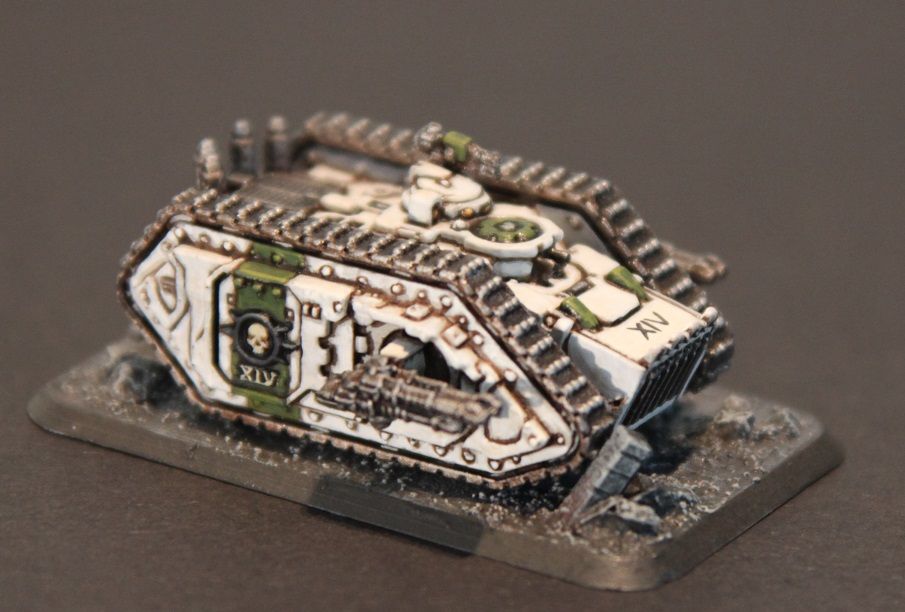 Heavy support stand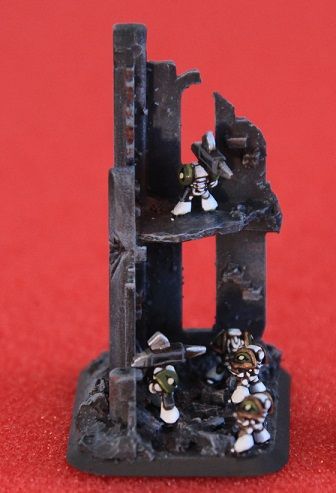 Some test models for my next units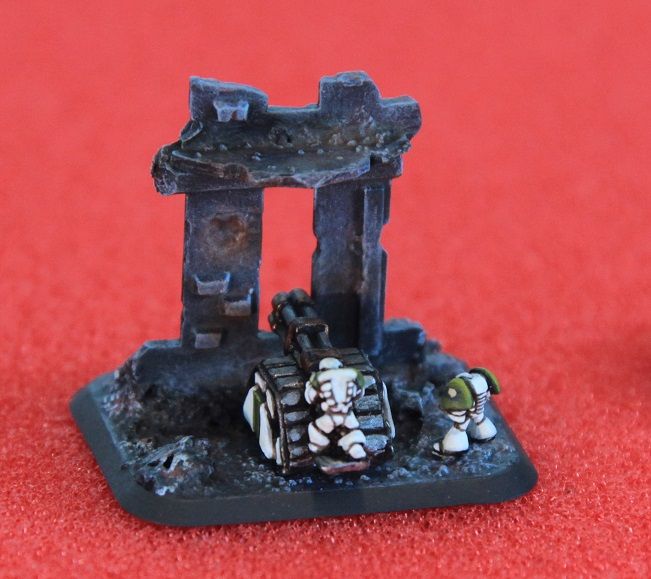 The paint job is probably too clean for Death Guard, but my efforts at weathering didn't end too well. Does anybody have any good (and preferably easy) weathering tips for 6 mm models?
Cheers,
Frank