Hey guys, longtime lurker, sometime poster in the rules threads. Figured I'd share a project I have going on currently: building "updated" Khorne Lords of Battle!
I like the rules, and I liked the general outline and style of GW's "update" of the LoB into the "Lord of Skulls" - even if the 40k model was ridiculously armed with skull-cannons firing flaming skulls inside of skulls that explode into showers of skulls...
Anyhow, the concept was a pretty decent update of the old Lord of Battles, it was just too small, way overcosted, and I don't play 40K anymore anyhow, so the kit was more of a "hey, that's nice" discovery for 40K.
Ah, but Epic: Armageddon, that's a different story. I have a bunch of mostly-painted Iron Warriors, and I'd long figured that if I were going to adapt them back into a "Black Legion" list that Khorne's patronage made the most sense. I also want to reinforce the army with some Lost & the Damned at some point as well, so I'd been dreaming up how to convert the Lord of Skulls look into an epic scale Lord of Battles.
I had largely settled on Troublemaker Games ordinatus elements for the chassis, when the Adeptus Mechanicus line rolled out for 40K and I saw the Kataphrons. The idea percolated, and then Christmas hit and it was swiftly forgotten. I was looking for a bit of a break from painting up my Kingdom Death: Monster stuff last week though, and had a "hey, why not?" moment. A quick trip to eBay and a little digging through the bits box, and I give you Hans & Franz: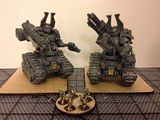 (6mm infantry for scale purposes)
Elements: 2 kataphron sprues (chassis, servitor torso), terminator assault cannon, chaos terminator power axe arms, berserker chainaxes & helms, spare knight paladin battle cannon barrels, assorted brass etch and Khorne symbols.
More to come as I get these guys fully based and painted, with other Chaos war engines lumbering along in their wake...