Back in the day I used to play Rogue Trader IG painted in the death blades scheme (The grey and black one that was on the front of the box) which can be seen here.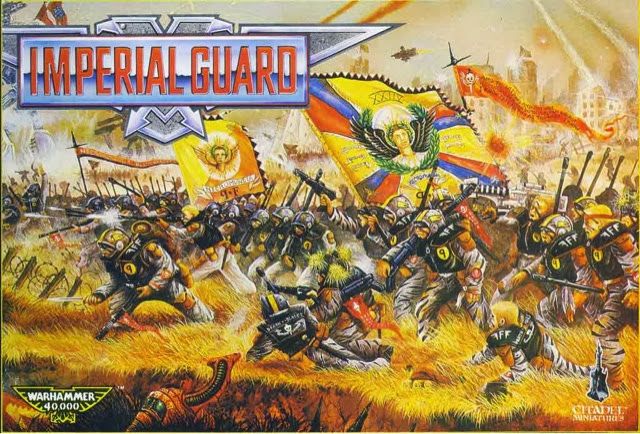 I'm currently repainting my 40k models, and at the same time I'm also painting up the full F company in epic scale. The overall strategy of collecting this army is to represent the type of army that was present in the Rogue Trader Compendium, which was my first 40k army. This was a company made up of multiple platoons, including abhumans, assault guardsmen and supported by things like thudd guns and mole mortars. Also the commentary on the image in the compendium specifically mentions the Fire Wasps titan legion (Known as Legio Ignatum these days) so I would love to include an oldschool titan in fire wasps colours if I can get my hands on one).
These epic scale guys might get used from time to time, but I haven't played any epic for a long time. This project is more a labour of love.
Eventually the army will be composed of the following units.
1st (Gold) Platoon.
Commander, and twelve bases of veteran infantry.
Four sentinels.
2nd (Red) Platoon.
Commander and twelve bases of infantry.
Four sentinels.
3rd (Green) Platoon.
Commander and seven bases of assault infantry.
Four grav attack vehicles (these can count as Valkyries).
Four sentinels.
4th (Blue) Platoon.
Four support stands.
Five thudd guns.
Ten Mole Mortars.
Four Sentinels.
5th (Orange) Platoon.
Twelve rough riders stands.
6th (Black) Abhuman Platoon.
Command Stand.
Nineteen beastmen stands (count as infantry).
Four ratling stands.
Four ogryn stands.
Company Auxilia.
Fourteen whiteshield stands.
Imperial Navy Support.
Six thunderbolts.
Two marauders.
Legio Titanicus.
At least one titan (Firewasps Legio). Probably a warlord.
And because they are so cool...
Superheavy Company.
Three Shadowswords.
(These guys aren't in the artwork but I want three shadowswords. I've always liked them so want them included, so I'm choosing to break my own rules).
This should to a pretty reasonable job of representing the death blades as depicted in the Blanche artwork above.
I still need to source:
three shadowswords
at least one titan (preferably an older version to match all the other older models).
If anyone has any tips, models on a shelf they want to donate (for the appropriate level of compensation of course!) or contacts please let me know!
So far I have assembled about half of the models and painted Red Platoon.
Here are a couple of pictures showing what I've been up to.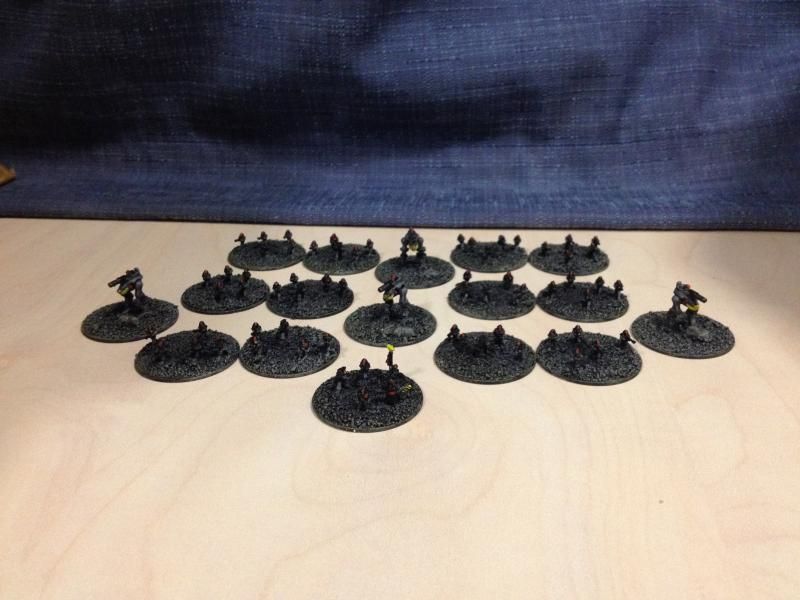 Note the red helmet stripes. Each platoon will have the appropriate coloured stripe.
I've used artillery models to represent officers and sergeants.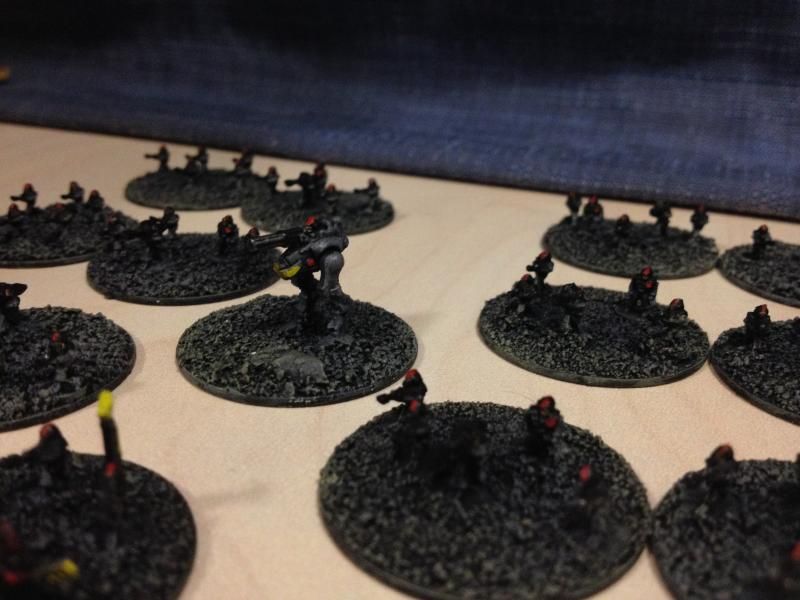 Every second base has a lascannon as well as a sergeant which works out to be one per ten men.
So that's where I'm up to with these guys. Still a bit to go...