Thank you!
Sadly that productivity has dropped off somewhat now that I am no longer blessed by Papa Nurgle and so have to do tedious things like going to work. However, I have managed to get a little more done over the past few weeks, starting with these bunkers from the sadly now-defunct Wasteland Games Studio. I bought a pack of several of them years ago and painted three of them up for my Space Marine army to use as objective markers. Since I had plenty spare, I decided to do the same for this army.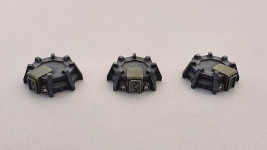 (Click for larger image.)
I've also painted up another biker/Rough Rider Platoon:

(Click for larger image.)
And I've done two Sentinel Squadrons:

(Click for larger images.)
Finally I've done this Stormtrooper Platoon. I'm quite pleased with how they've turned out, particularly the eyes, which unfortunately aren't all that clearly visible in the photo. I was hesitant about whether to try and paint the eyes (actually goggles) as I suspected that if I didn't do a good enough job of it then they'd end up looking a complete mess, but in the end I gave it a go and they've come out just fine.

(Click for larger image.)
I remixed the Valkyries slightly so that they would have multilasers rather than lascannons, bringing them in line with their weapons in the rules. The Heavy Bolters that the rules say they have are not shown, but as they're supposed to be on pintle-mounts inside the doors, I don't have a problem with them not being visible when the doors are closed on the model.
Vultures next.