Spectrar Ghost wrote:
I always like grab-bag threads over threads for each mini. It's easier for me to say, "Oh, that's in MekBoyAndy's thread, now what page?" than to search threads by author to find it. That's an amazing build, love it. Two questions: what did you use to detail the treads? Half-round strips? And who makes the metal treadplate you used?
I just read your entire painting log, WOW, amazing.
Your right about grab-bag threads and I'll rename it now.
I used this old plastic sheet that looks corrugated. I cut it the tracks from this by cutting down the groove at the the width I wanted for the track and then cutting each track from the strip using my cutting pad to measure. In this picture the strip is to the left and the individual tracks cut from it are on the right. Not pictured is the rod I cut to shorter lengths as spacers.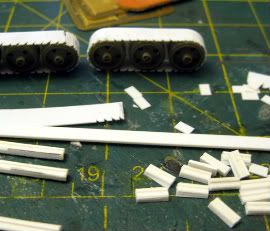 The treadplate material is.... wait for it.......
the backing for Dulcolax tablets.
Yep, I looted a laxative