laissez-faire wrote:
I scratch built a raider recently as a test. Yours are much, much nicer - I'm jealous. Well done.
kyussinchains wrote:
As a request, both to Borka, and other talented scratchbuilders, please post very detailed guidelines on your scratchbuilds, I am determined to have all the models that I want in my armies, but not being a huge modelling talent it's not easy to figure out for myself
I'm happy to help so below follows a tutorial. I was in kind of a rush so didn't have time to arrange good lightning, so I would like to appologise for the bad picture quality.
Their super easy to make if you have the right parts, you don't really have to model anything. (ok it's very fiddley but other than that they're easy.)
My raider tutorial:
First of; pieces needed are these:
What you see above are.
One eldar ranger,
old plastic gun crew,
old plastic should mounted heavy weapon guardian,
old vibro cannon/support weapon,
one new 40k DE razorwing necrotoxin missile (unassembled),
1,5 new 40k DE razorwing shatterfield missile,
Some kind of base (technically not necessary by the rules, but makes a skimmer look a lot better).
II) Step two. Cut the necrotoxin missile part like in the below picture.
III) Cut of the frontal part of the vibro cannon. Glue it together with two of the parts from step II. Glue them straight and not asquint like I did in the picture

IV) Cut shatterfield missile part like this
IVb) Below pieces goes together. Som flattening of their surfaces are needed to easy and convenient glueing.
V) The smaller two paired parts goes to the front. The bigger part from the shatterfield missile should be placed to the back to give som "back fins" to the raider and on top of that glue the large part form the necrotoxin missile to form the raised area for the steersman. Fold it first before gluing it on
VI)

Right vessel in pic:

Take weapon crew miniature and cut of the feet from the base. Glue to the back. Take some small piece of suitable plastic and glue for the aft gunner to have his weapon rest on.


Left vessel in pic:

Cut of weapon barrel part from shoulder heavy weapon dude and glue to rangers weapon instead of the thin part of his rifle barrel. Glut to the front. Add green stuff to floor can be done earlier.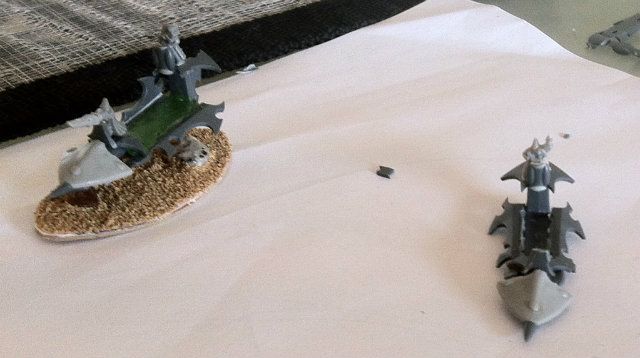 VII) After green stuff is hardend you add railings. I used parts from the shatterfield missile.
Ok that finishes the raider tutorial. I'll do one for the Barge of Pleasure and airplanes later.
Hope this helps!
Cheers