Part 1, an Homage to Onyx.
I once again became interested in the Epic system about a year ago after much urging from my friend Soylentbob.
I then became sidetracked by other, more immediate, projects and didn't get very far on my army.
This past Thanksgiving I had a week off from work and decided to finish up several small projects, and elected to work on some Epic stuff as well.
I started with some infantry, found it fun, painted a titan, and was totally hooked.
At this point my Epic army is my immediate project and all others have become secondary.

When I started looking into EA I quickly decided that I would play traitor marines as Soylentbob has a very large (and very nice) Dark Angels army.
I perused these forums for quite a while as I assembled an army and began getting it together for painting.
Whilst many armies were impressive, I was continually drawn to Onyx's efforts on his, and Cal's Iron Warriors armies.
Having a small IW force in 40K scale, and being totally enamored of Onyx's work, I elected to follow his tutorials and create an Iron Warriors force of my own.
In French Homage means to honor, while here in the US it basically means you ripped someone off.
I'm afraid I did the second whilst intending the first

Infantry: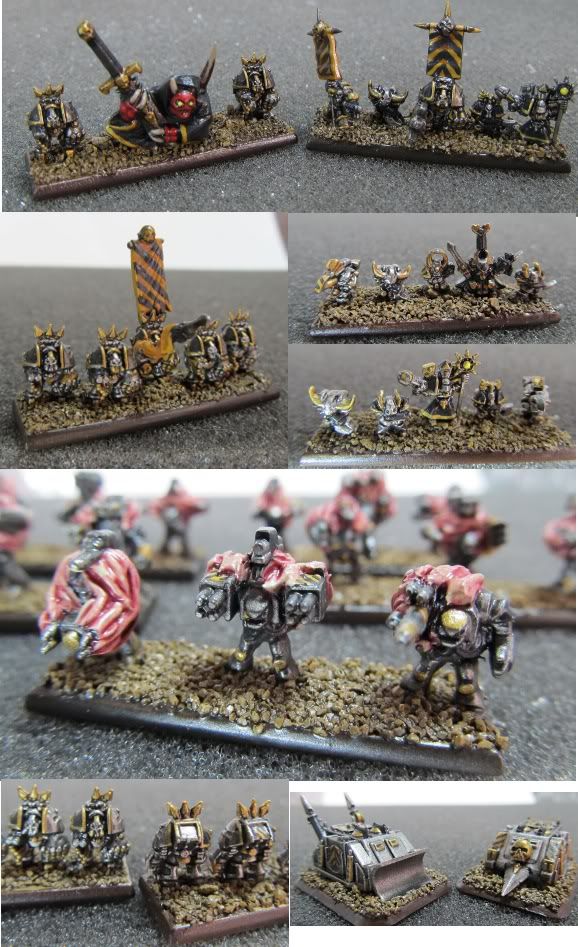 The first photo is my Daemon Prince and my Warsmith
The second is the Terminator Lord followed by a Combat Lord and a Sorcerer Lord
The rest is fairly self explanitory.
Deathwheels: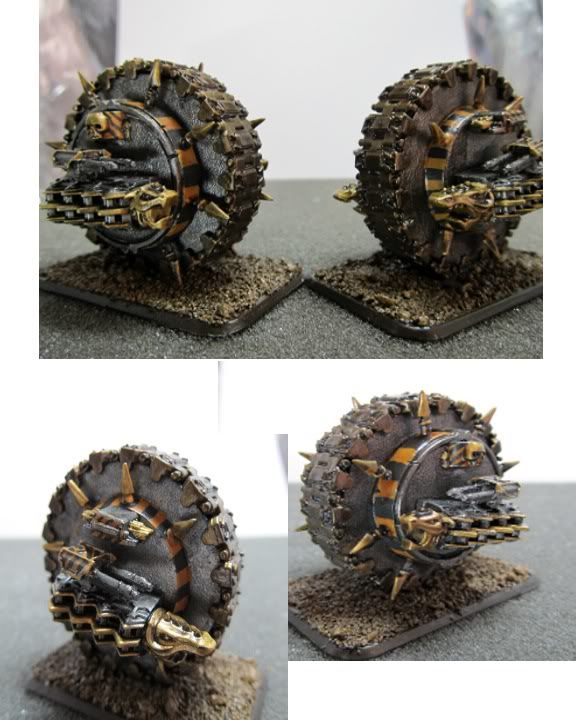 Followed Audrey's tutorial where I could, and homaged the heck out of Cal's Deathwheels where I couldn't
Ravager Titan:
My sweet little baby.
He hasn't been too effective, but he looks scary on the table and draws folks to look at the game.
He's a gateway drug >:D
Feral Titan: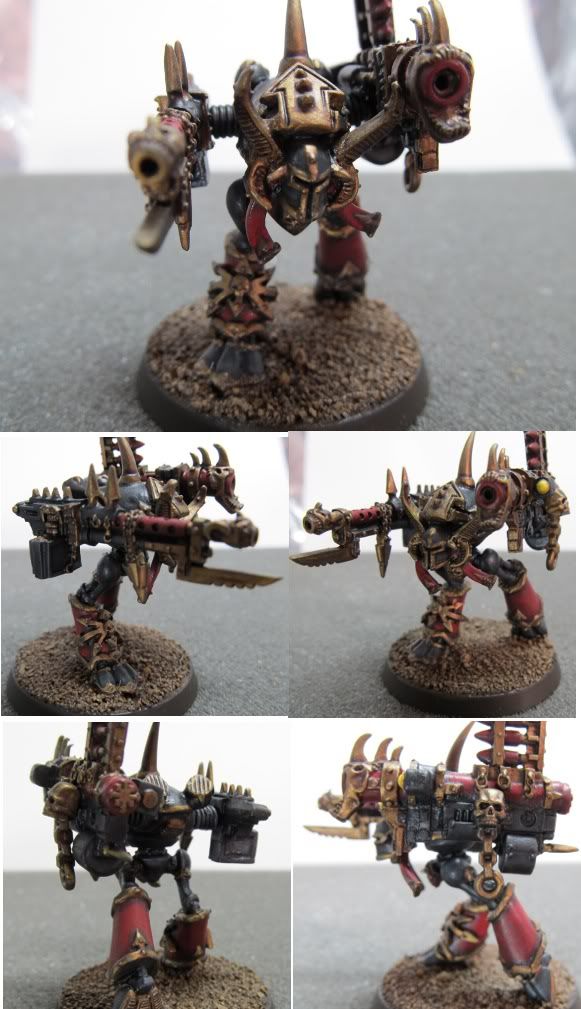 This guy jumped way forward in the painting and modeling schedule due to a certain contest being held during a certain month by a certain manufacturing company of certain minis in a certain diminutive scale.
Again not overly effective thus far, but 8 land raiders at a time is a bit much for anything susceptible to AT fire.
Defilers:
One of the other reasons I chose the dark path of heresy were these awesome models by the resident water rat.
Granma must be getting senile as evidenced by her throwing away the opportunity to make models like these.

Obligatory Army Shot:
Prior to Thanksgiving I had painted the Sorcerer's Retinue, the Combat Lord's Retinue, their Rhinos and the unit of 4 Terminator stands led by the Daemon Prince.
Since Thanksgiving I have painted the Warsmith's Retinue, a unit of 6 Terminator Stands led by a Combat Lord, 3 Defilers, 5 stands of Obliterators, 2 Deathwheels, the Ravager and the Feral.
Next up is a unit of 8 Land Raiders then some airpower.
Again, thanks to Onyx and Cal for the source material and to everyone who posts their work for the inspiration.