I've finally started assembling my FW Reaver - it's my first Titan, and also my first imperial vehicle. I'm going to be a bit ambitious with this project - this model is getting the following:
- Semi-scenic base with building (another first for me);
- Re-posed leg and toes - treading on the building;
- Custom weapon fit (See my "lucifer-pattern powerfist" thread);
- Slightly re-vamped old school colour scheme -
"Imperial Fists"
, in "candy-apple" style blue and solid red, with heraldic markings (if I can make them look any good)
Does anyone know if there are any custom decals for Epic Titans? I found some markings for 40K sized ones over at BoLS, but I can't seem to find anything for smaller-scale machines.
I ordered some parts from Bits&Kits (for an as-of-yet unrevealed epic project), and I couldn't resist fitting some of them to the Reaver. The Sentinal Hunter Killer Missile fits well, and I liked the Missile launcher so much that it has replaced the standard one: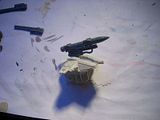 Larger.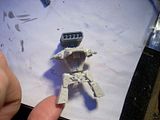 Larger.
I used part of the vindicator shell winch and terminator teleport homer to make this building for the base: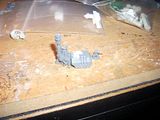 Larger.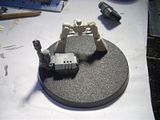 Larger.
Next job: Repose the leg.
More photos on my
Photobucket.