So, it is time to show some of the progress so far. With the latest additions, both the Steel Legion and Tyranid armies are close to 2500 points, and I have begun pondering upon colour schemes for my Space Marine and Ork armies. I am thinking of Red Scorpions (to go with the Tyranids) and gritty orks with clan elements to face off against the Steel Legion.
But first, some Imperial Guard support:
Hellhound Squadron (with company markings left to do)
Sentinel Squadron (also without markings).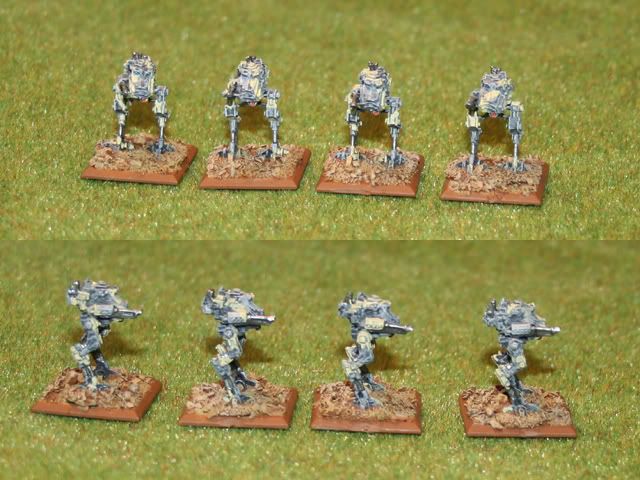 Ogryns with Chimeras and Ratling Snipers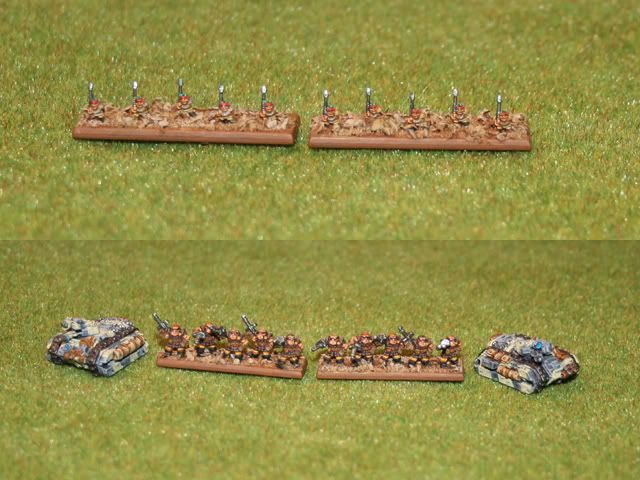 Fire Support Platoon

These models were all a blast and a mixture of old and new. I converted some Cadians to Steel Legion by building great coats and I found some E40K Chimeras (I think) to go with the Ogryns. They have much more attitude than the present SG ones. The Sentinels were a welcome replacement for the Walking Eggs. The Fire Support Autocannons were painted in the vehicle scheme to further tie the infantry with the armour. I want the infantry to stand out a bit from the bases, but in the case of the Ratlings, I wanted them to blend. After all, they are scouting snipers. The Ogryns keep some of the regiment colours on the pants, but I wanted to make them look more dark. I got inspired by the Rulebook Ogryns and did some arm management to avoid the mono-pose look.
/Fredmans