Hey thanks guys, much appreciated.
I have enough stuff for one more Necron Warrior Company, two more Destroyer Companies and one spare Eques each of Destroyers and Heavy Destroyers. I hope to use some Marines for at least one company of Immortals and I'm leaning towards modified Orks for Pariahs. I have enough curved spiny bits (off Tyranid Warrior Guns) to make two phalanx of three Wraiths. I'll try and make at least two Phalanx of Flayed Ones also, probably using Eldar Striking Scorpions due to using all my Harlequins for Harlequins. I'll need to re-think the Tomb Stalker as I thing my construct fits better as a Warbarque instead. So I better get hunting for a Necron (Walker) Titan proxy. The 40K C'tan will be used for the Epic C'tan (about right as they are the same size as Greater Daemons). I've still to do a Monolith but I think it's do-able in card after what I've seen and done but i want to make it slightly bigger than a 20x20mm stand (I have just the thing) and I want to make another Tomb Spider since I enjoyed making the first one and it does look pretty neat, even if I do say so myself. I can make as many Obelisks (Necron Bedside lamps) as I can be bothered with but three would be fine for now so one to paint and one more to build. I want at least two pylons but one would be fine (some ideas but nothing concrete yet... and I'm presently making these...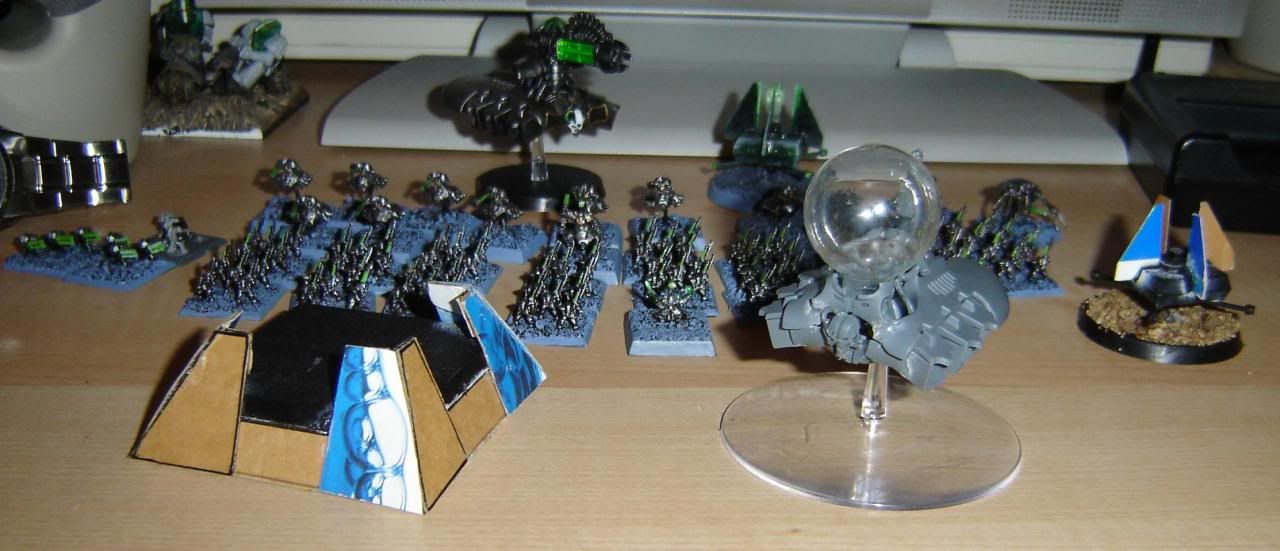 WIP of my Abattior and the complete...ish construct for my Aeonic Orb.
Aeonic Orb.
I'd love to do the Raiders Aeonic Orb (among other Necron conversions) but I had already started on or got these parts before I thought to give it a look.
Orks for Necrons!.. I could have had millions of the little bleeders
*sigh*