HURRAH!! Tactical Command has returned.
So, have managed to get a little painting done in the down time. Hardly any progress on the Thousand Sons though. Still, I managed to start on the frustrating slog of finishing off the bases for the army. Just the Landspeeders so far though. Attack of crappy-photoitis once more: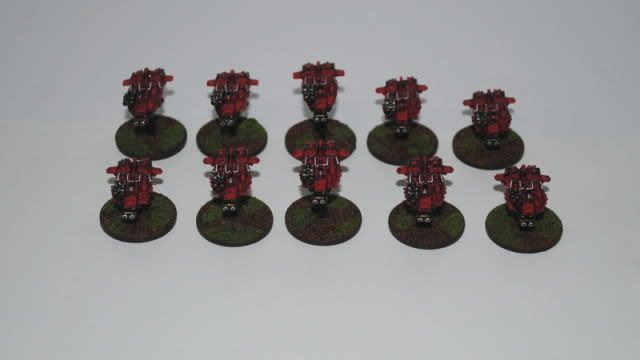 In other news, I've started my next epic force! And its the Mechanicus.Actually, the idea for these guys is to have dual uses for most of the stuff in the army, allowing me to field a Tech-Guard force, and a Krieg-style Siege Regiment. Both of these I'm trying to keep pre-heresy themed so they are contemporary with my TSons... so no Macharius sadly, though most other things are OK.
So, I needed a colour scheme (and basing scheme) that would be appropriate for both forces. For colours I decided on black with red details, has the key mechanicus colours while also being grim enough for a siege regiment. For basing, I thought the temperate world style on my Sons wouldn't be appropriate for either force, so needed something new. Eventually I settled on a reddish martian wasteland style, which I figure works well thematically for both armies.
First off, a tester for my infantry. These guys will be Tech Guard for the Mechanicus, and Grenadiers for the Siege regiment. The infantry are the Siegemaster infantry, and the heavy weapon is from Exodus Wars. He's been slightly converted - I added a GS robe to his legs so he matches the rest of the unit (not particularly visible in the pictures) and filed down the sides of his gun slightly. Tech Guard carry Heavy Bolters, and Grenadiers Heavy Flamers, so I wanted it to look like it could be either.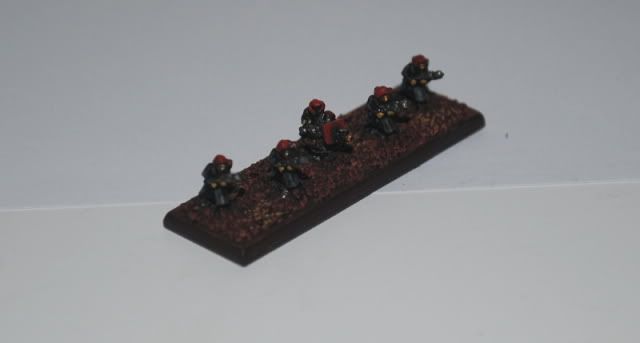 Next up, some Mechanicus Praetorians, the elite of the Mechanicus infantry. I decided to use the old robot models for these guys - as well as being a pretty good representation stats-wise they help add to the pre-heresy feel, seeing as there are examples of the old robot designs in
Collected Visions
(and a story touching on the Mechanicus' use of robots as well).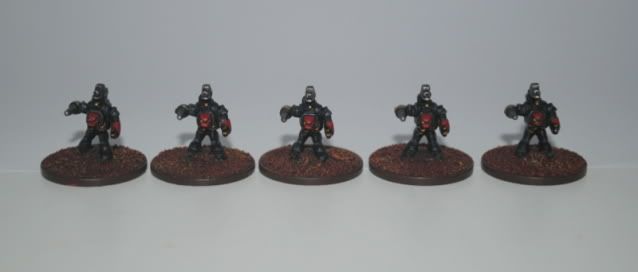 Finally for the Mechanicus, some heavy transport - a Gorgon! Seeing as they can be used in both the Mechanicus list and the Krieg list, I'll be painting up a few of these. I'm thinking I need to add an extra something to make it 'pop' a bit more - probably some numerals or other iconography, and perhaps some hazard stripes somewhere.
Aaaand finally, I painted these guys up for a bit of fun. I may make an army for them eventually, but certainly not for some time. Still, I fancied having a go at some as I figured they'd be fun to paint. They were!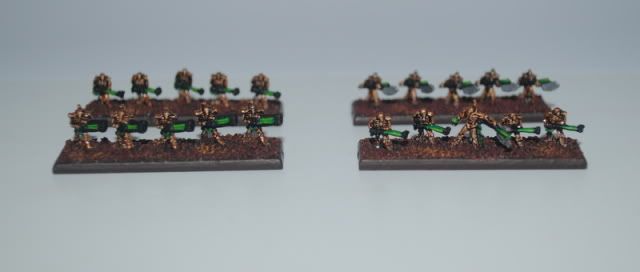 As always, sorry for the crappy photos. Must sort myself out with a proper photo-setup one of these days - I find it frustratingly impossible to get decent photos of 6mm stuff without one.