Vior'la Tau - Developmental V1.8
The new update is now available. This contains the two new Tau units that I have kept to a separate list for the last couple of months, but that are now ready to see the light of day.
KX128 Stormsurge
An absolute colossus of a machine, piloted by graduates of the Ves'oni'Vash, the KV128 Stormsurge is designed as an extreme heavy-weapons platform. Not as manoeuvrable as a Riptide, instead relying on thick armour and devastating loadouts, these hulking, squat ballistic suits are capable of changing the course of a battle in seconds with a decisive volley of astonishing firepower. Fitted with thrusters to counter recoil, bristling with pulse weaponry and missile pods, the Stormsurge is the Tau Empire's Titan-killer.
Vior'la Epic version
Two KX128 Stormsurge units 250pts
War Engine 20cm
Armour 3+
FF 5+
CC 5+
Pulse Driver Cannon: 75cm MW3+
Destroyer Missile: 90cm MW 3+ (TK D1), One Shot
Notes: The Destroyer Missile may not be fired at a target that is not Marker Lit. The unit may not fire any other weapons in the same turn.
Tau Deflector field. Walker. Damage Capacity 2. Critical Hit: Destroyed, doing a hit to any unit within 5cm on a 6+.
(Once per game this giant mech can fire a missile at a target, provided the target is markerlit, and at the expense of not being able to fire its standard weapon.
Why take it instead of a Riptide? The range makes it a viable alternative to the riptide, and it is the only ground-based TK available to Tau.
Why take a Riptide instead? The Riptide is a little cheaper, has more diverse weapons, is faster and has stats better suited to moving up the battle field)
KV129 Ta'unar Supremacy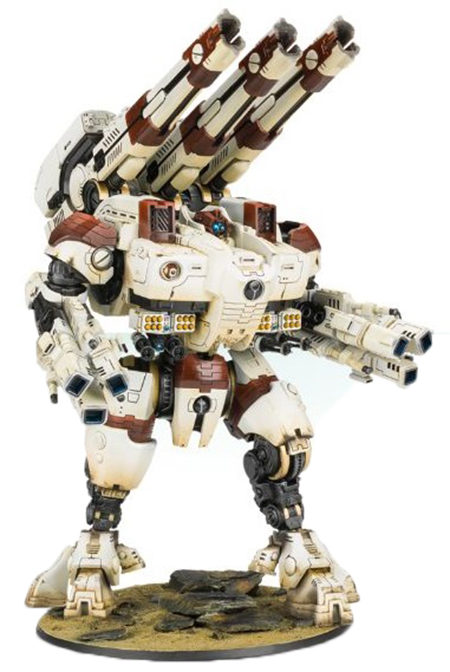 The Tau KX139 Ta'unar Supremacy Armour is larger than any other current class of Tau Battlesuit. It is intended to meet a threat that the Tau Empire has not yet prepared for; the defence of worlds within their growing domain from the counter-expansion forces of other races. Lacking the manoeuvrability of other Battlesuits, the KX139 Ta'unar Supremacy Armour was designed for static defence; carrying massively destructive, long range weapons.
KV129 Ta'unar Supremacy
225 points each
War Engine 15cm 3+ 5+ 5+
Pulse Ordnance Multi-driver 75cm 3BP, Ignore Cover
2 × Seeker Missiles 90cm AT6+, Guided Missiles
Tau Deflector field. Walker. Damage Capacity 3. Critical Hit: Destroyed, doing a hit to any unit within 5cm on a 6+.
(A DC3 gigantic walker for Tau! The 40K version of this fires a remarkable Apocalyptic Barrage (3) with Pinning and No Cover Saves, which is scaled down a bit here into a 3BP Ignore Cover barrage weapon in order to make it easier to price and balance, and for the same reason the special rules are kept to simply 'ignore cover')
Additional Special Rule:
Voir'la Tau Barrage Weapons
Voir'la Tau Barrage Weapons do not benefit from bonus to-hit effect of markerlights.
(This prevents Tau template weapons from being better than other armies'. The original Tau list didn't have any template weapons, but since part of our remit is attempt to represent additions to the 40K universe in this game, this rule is probably almost inevitable. This does mean a slight nerf to Sunshark bomber pulse bombs, but I don't personally see that as an issue at all. Feedback is welcome)
I hope that players enjoy having access to the new units, and please let me know if you have any comments regarding them.
These are likely to be the final additions to the Vior'la Tau list before we seek approval, and in fact I hope their existence will spur people on to play the list enough to help generate the necessary battle reports

Thanks