So I was going through and organizing my Epic stuff and was just in awe of what I have accumulated. Some of these games are over 25 years old. While I may have faded in and out of Epic as a whole since I first got into it, I can't think of many things I have been fascinated with for so long. And its just not gaming in general, I don't have anywhere near the appreciation for other games as I do Epic even if you grouped them all together.
So since I have been around for awhile, I thought about talking about the pros and cons I found in each game, and see if anything I feel syncs up with what you guys feel, and then maybe have some way of explaining to others why these games are so important.
Adeptus Titanics / Space Marine v1 / Codex Titanicus / Early White Dwarfs
- I first saw AT in a comic book store, and while I thought it looked cool, but I could tell the hobby was expensive to get into. I had a loose idea of what GW's Space Marines were, and thought they were cool. A few years later (while SM2 was just coming out), someone sold me their old collection in one huge gigantic unorganized pile for me to sort out. The Heresy, the things units could do, the comical Orks, coolness of the Eldar, literally blew me away. No game/system before or since has captured my imagination more than this one.
Pros:
Pretty cool box sets for their time. While the models started out a little repetitive, the rules allowed a lot of customizing of the titans (which gave them a lot of personality), and there was a lot you could do with the units. An incredible amount of detail, and you didn't need a huge amount of space to play. Individual units could have their heroic moments. Lots of interesting detail. Even though SM1 was just Space Marines vs Space Marines, there really is a lot tucked into that rulebook to keep you busy for a long time. And while there were set detachments, the rules allowed you to create your own.
Cons:
While I love the detail, it does slow the game down, no question. There are some things I would leave out of a game today, like fire arcs for individual weapons on vehicles, but in this case, it adds another level of tactical decisions you don't bother with today. This means while playing small games could be really interesting, playing big games can take several gaming nights to play out, and we had some that took 5 nights to resolve. But we kept coming back.
Also, the rules are not only spread out across 3 rulebooks, but also White Dwarf issues as the game evolved, and can be a cluttered mess. Some rules were tucked away in a random article, like 'oh hey remember that rule about this? Well its that now'. That didn't happen in later versions of Epic. Despite selling the models, GW never expanded the rules for the Eldar, which was really the only thing that disappointed me during this time.
Space Marine v2 / Titan Legions
- I had to be dragged kicking and screaming to play this system, as I thought the more simplified unit stats would give me fewer tactical decisions to make, and therefore I would like it less. But GW had been releasing new models we didn't have rules for in the earlier system, and my group wanted to play them, and we played everything. And once we did, this group never went back to AT/SM1. There is no question this is the easiest Epic system to introduce new players to. The box sets really only serve as introductions to the hobby than as more playable games as their predecessors, but there was a lot out there to expand on.
Pros:
- Easier and faster play than the previous edition. Captures a fun and colorful atmosphere. A ton of variety of units for 8 different armies. Was incredibly popular for its day.
Cons:
- While the general rules were very simple, the detail and rule complexity for specific units led to some being broken. Also, having detachments being a certain size, sometimes it was hard fielding the actual models the units were supposed to be be (Eldar Howling Banshees, Ork Nobz, etc). And this was back then, and even a little more difficult today.
Epic 40,000
- Like everyone else, I was stunned with the direction GW took when this game hit the market. It basically took the attention from the individual unit and gave it to the detachment. A lot of time went by before I gave Epic 40k a try, well after it was no longer supported by GW and everything was sold at a discount. What I found was some really novel ideas, and really gained a lot of respect for the game they put together.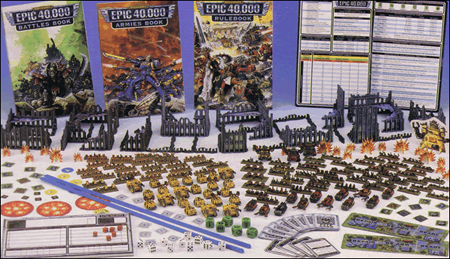 Pros:
- Probably the most impressive box set ever released for Epic. Not only did it include two really nice Space Marine and Ork armies, but also the rules for Imperial Guard, Eldar, Orks, Chaos, and Tyranids. With the flexible detachment building, you could literally play out of this box for years just adding a new model here and there. And the terrain was really nice too. The flexibility (and perhaps too much), allowed players to create detachments with leftovers in their bitz box. Loved how they were able to find the right balance of complexity AND simplicity with the War Engines.
Cons:
- There are a lot of things I have issues with in this game, from the short weapon ranges, ridiculous firefights, but there are elements in it that the previous game just don't have and its an interesting change.
Its not my favorite version, but its a more complete game in a box than anything else GW has done for Epic.
NetEpic
- Now I have read the rulebook some time ago, but I don't have a lot to say about it. I know a lot of hard work went into it, but I guess when I sit to play a game, there is a lot more I am thinking about than just the rules. It sounds crazy, but I am inspired as much by the fluff than I am the rules on what I can do with my units. I tend to approach my games through the atmosphere they create, and being the format NetEpic is, its kind of hard for me to get started. So I don't really have any pros and cons here. I just haven't given it an official go.
Adeptus Titanicus II
- This was a complete waste of time in my opinion. Just like the Epic Flyer game that came out after EpicA, this left me scratching my head, "Why?". Up to this point, I had three rule systems for Epic that incorporated infantry, tanks, titans, and in some cases, support weapons and aircraft. ATII focused only on titans and war engines, and I just didnt see the point. The beauty of Epic is allowing all of these units to be played out in one system.
Pros:
- I really don't have any.
Cons:
- It only focused on War Engines.
Epic Armageddon
- I know this is a popular system here, but it comes with a lot of disappointment for me. After 20 years of playing Epic, I found myself exchanging emails with none other than Jervis Johnson, who might was well been the first man to the moon as far as I was concerned. Here was the man who single-handed was responsible for all the hours I spent painting and playing miniatures for Epic and 40k, and I was discussing the pros and cons of Epic with him. Still surprises me today.
However, being on the playtester team, I could see the direction the game was heading, and found myself on the losing end of most arguments, even though I could predict Epic A's demise. There are several reasons for it, but in the end, if Epic A had been more popular, GW would have found some way to extend support for it. Regardless of how popular it might be to some players today, it just wasnt popular with enough of them then.
Pros:
- Unit Activation system. Fixed detachment system, but also allowed them additional units to be added to them. Brought back the difference between anti-personal and anti-armor weapons, but did it in a ridiculous way forcing a detachment to chose which it would do, so not really sure if this is a pro or a con.
Cons:
- No box set. Limited Specialist Games resources was probably the main culprit for this, but without a box set to make a splash with, I guessed only hardcore fans and those really really curious would bother with a rulebook only to get into the game. Some people have no problem playing with printed PDFs, but box sets capture the imagination and excitement far more than just a rulebook.
But the biggest killer of all, were the army release schedules. The main rulebook, covering an overly-covered Armageddon, only included the rules for Space Marines, Orks, and Imperial Guard. The only other supplement to follow introduced the Eldar, another Ork army, and another Imperial army. Meanwhile, the armies that would have gotten a lot of excitement a lot earlier like the Tau and Chaos, were scheduled years out, and that just sapped a lot of excitement for the people who had been involved at that point. Had GW released the armies everyone wanted right away, a lot more people would have been playing Epic. The Siegemasters could have waited.
Epic A is still going strong as a fan supported game which is great, but I just don't think it has the excitement of digging up a used copy of any of the previous editions on Ebay. But I know there are others here that would argue the opposite.
*** Conclusion ***
If I had to recommend a noob who was willing to shell out the cash, and spend the time searching for parts, I would probably recommend the Epic 40k box set first, followed by the SM2 set.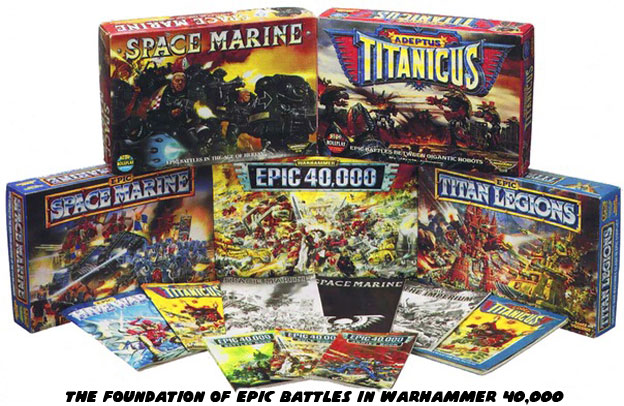 For all its short-comings, the Epic 40k set is the most complete box set ever released for Epic, and a player could play a lot of games with the variety of the armies covered in the Armies book, and the suggestions in the Battles book. While expensive upfront (because I do see this game sell for a lot on Ebay), its the cheapest in the long run (as far as box sets go).
SM2 on the other hand, while probably cheaper upfront, will cost a lot of money overtime collecting the set number of units that make up detachments, and the various expansion sets to play most of them. But it is a easy game to play, and its understandable how popular this game was at its peak.
And as much as I love SM1, I know its a b**** to get into. I mean, the SM1 set is probably the second most impressive set after Epic 40k, but the work its going to take to get all of the rules that were released over a 2-3 year period is going to take some work. Its fascinating though.
Yes, I had some free time today.

Curious as to your views when you get the chance...