So, I've finished off two covens' worth of cultists and various support, and am in the middle of basing/rebasing. I've opted for Fenris Games ply bases, which I endorse. Having two armies based on rectangular bases, I wanted to go for something new.
As I've said before, the idea of the army is for Chaos Marines plotting and orchestrating a planetary uprising, with the aid of demons and demon engines. The Khorne section will show off various mutations along the the route of beastmen (beastmen and minotaurs). Chaos Marines are sprinkled throughout the force, and the Cultists (unlike the upcoming mutants) all tote one heavy weapon/base.
The cultists are a mix of Dark Realm and GW plastics.
Pic 1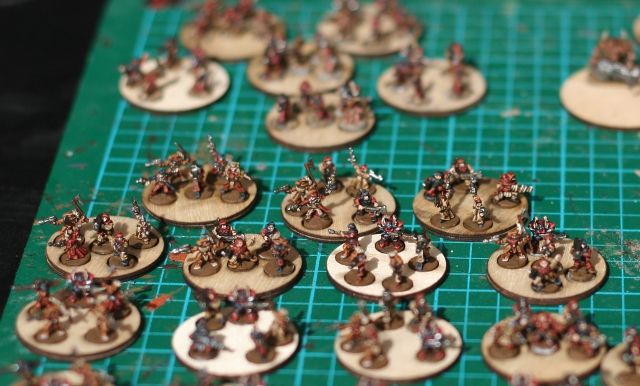 Pic 2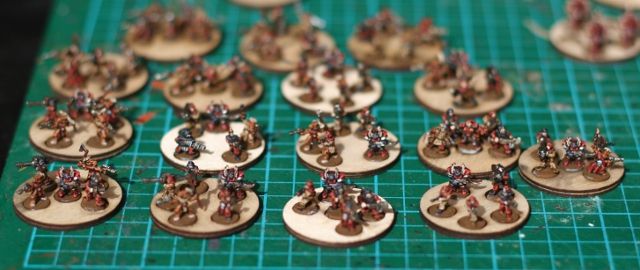 Pic 3
Flesh Hounds are used as Chaos Hounds.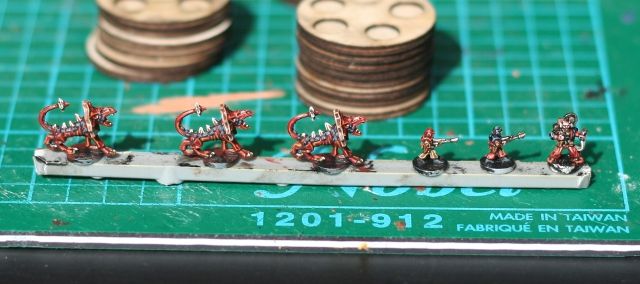 Now, I am working on more Chaos Marines, and two covens' worth of mutants (heavily mutated), and a traitor company (without mutations) fighting in the colours of the Sanctified. Once they are painted, I'll do the bases.
/Fredmans