and had a go at sculpting a 6mm figure to see if I could do it.
I had no idea how to start so had a quick look on TMP about armatures and bases and all that and after 10 minutes decided just to have a go anyway!
I also had no idea what to make so I just started with legs, then a body then a head.
It was at this point I decided I wanted him to have a gun.
I bashed some plasticard and brass strips together using superglue and made a strange looking rifle type thing.
Stuck some arms on and then decided he was going to be a post-apocalyptic sort.
So a knee pad, a beret, a pouch and giant rucksack followed.
It was not long until I had a little 6mm man all of my own making.
Yay!
I then decided I wanted a suitable base for him.
So I got out the Green Stuff again and made a barren base with bits of the old world poking through the mud.
Pipes, a rusted metal cage, a puddle full of water and a blue tarpaulin with a curious shape under it were then added.
Finished.
I think that all things considered, this being the first time I have used Green Stuff and the first time I have ever tried to sculpt a figure it is not too bad.
It is not of saleable quality, his eyes are wonky and the detail is not crisp enough but I reckon with a bit more practice I may be able to sell one or two of them.
Anyway, say hello to Badland Bob.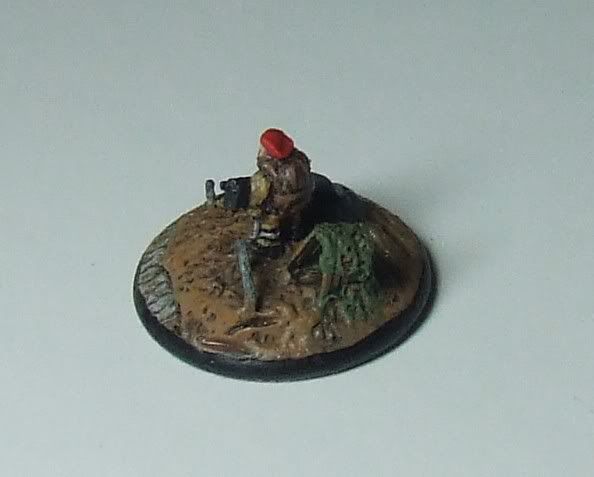 Michael.